Hello, everybody! These past few weeks have been filled with some amazing adventures in cakeland, so I hope you enjoy them!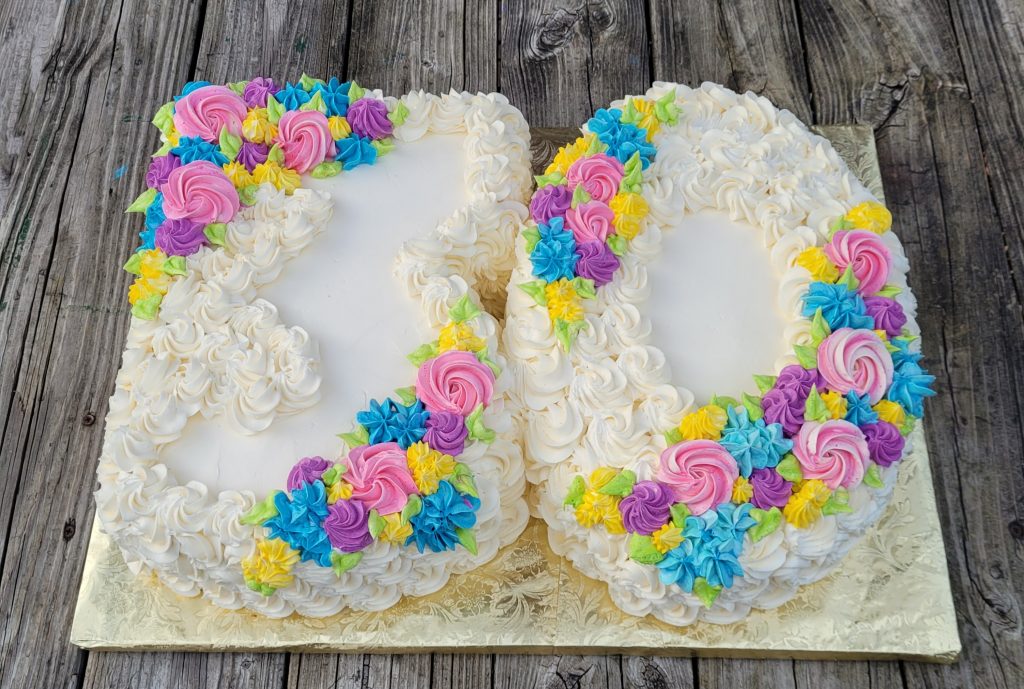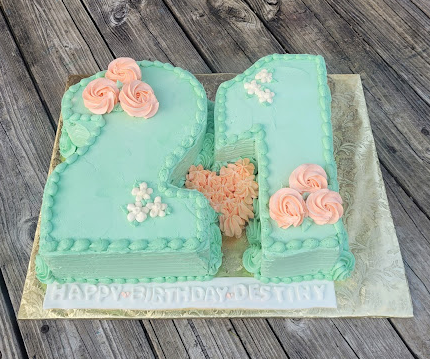 As the title suggests, there were a lot of birthdays these past few weeks. Usually, there is, but there was a least more that stood out to me. Something I'd often cite in the past were these number cakes, or cakes that were carved out to look like the age which the person is turning. And in these past weekends, there were three! The first one I saw was a 30th birthday cake, showing a vibrant array of colors, which I just loved. Another one of these cakes was then for a 21st birthday. I thought the color scheme for this one was pretty as well; I think the peach and light green are a good mix. The last one of these 'number cakes' was technically for two kids for their 16th birthday, with the 'One' being designed for the one kid, and the 'Six' for the other! I hope you all had wonderful birthdays!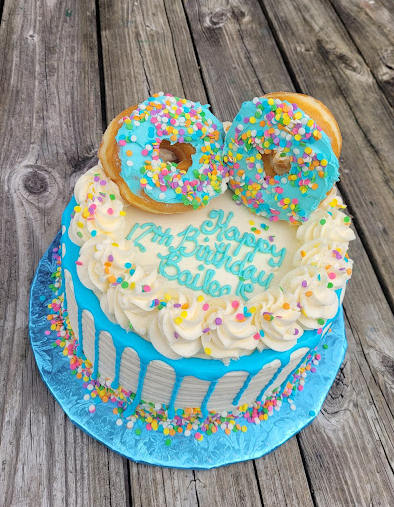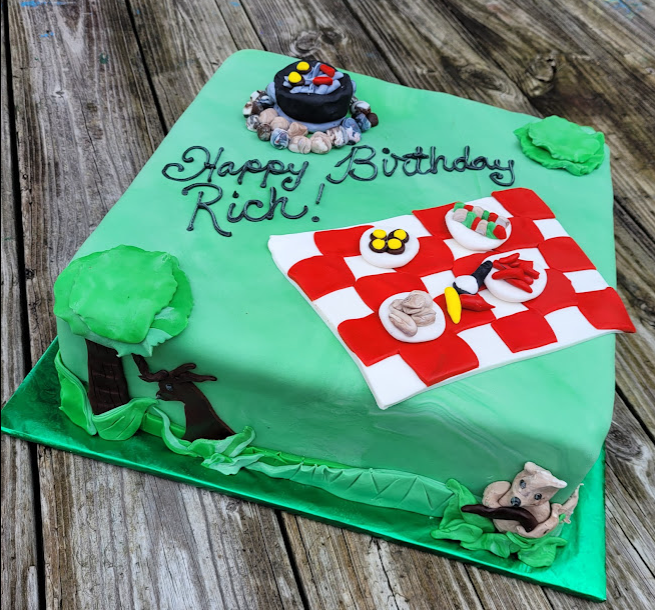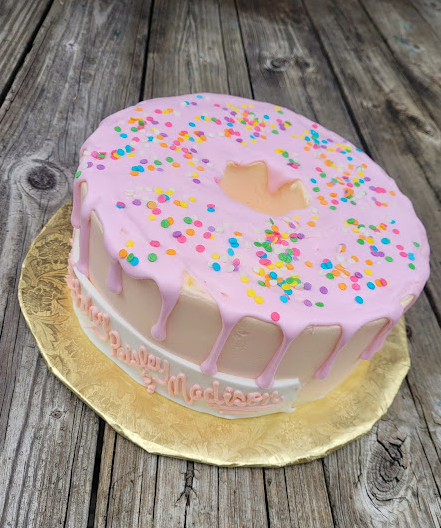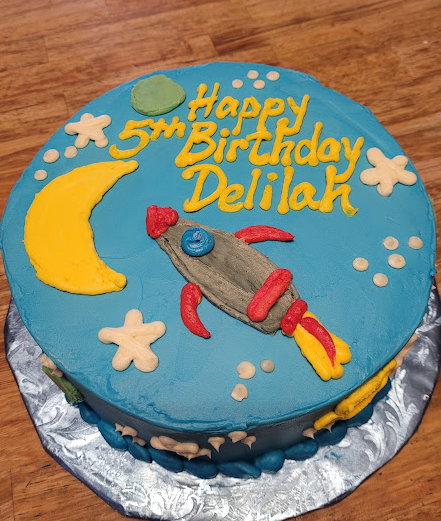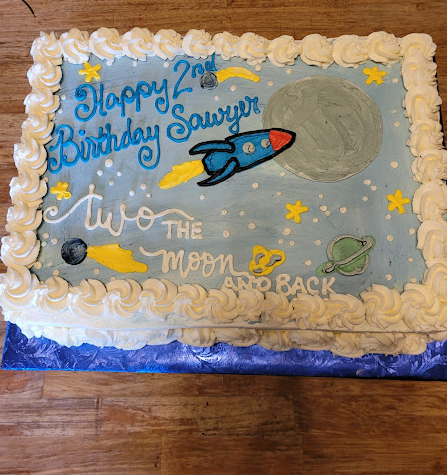 There were so many birthdays from these past weeks, I think I'll have to split it up into two paragraphs just to mention a few! First off, there were two rocket or spaced themed birthday cakes that went out. The first one, a small, one-tier circle cake, was a simplistic one, but still pretty cute nevertheless, with a large rocket. The other with a rocket was also flying in space, with many stars and asteroids. There were also two doughnut-themed cakes! The first was a drip-cake one, that actually had the middle cut out of it to keep the doughnut shape! I also loved the pastel colors on this one. The other doughnut cake had actual doughnuts on it! It was a smaller cake, with a blue accent to it [and it featured the drip icing too!]. Another cake that was pretty cool featured a barbeque theme. It even had little hamburgers on the grill! One adorable cake was also a two-tier, designed like a cow! I loved the little pink and white swirls on the top.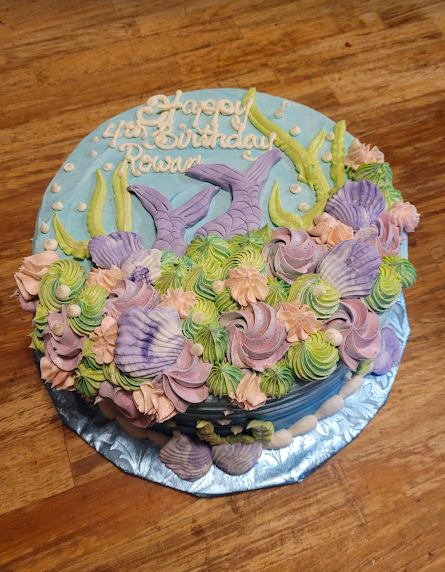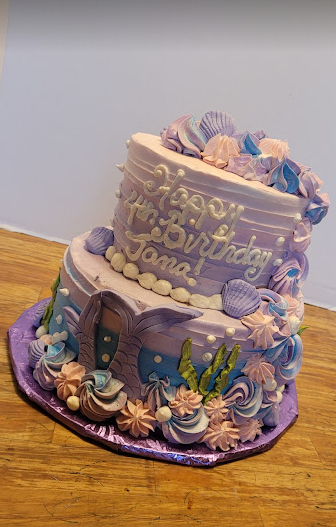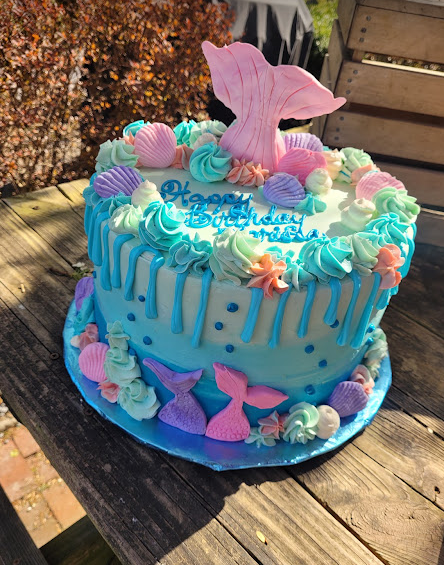 From these birthdays, there were actually three different mermaid-themed cakes that I thought it'd be cool to mention. First, there was an interesting [in a good way, of course] mermaid cake, with the sides being a blue ombre, and a pink tail popping out of the top! Another one featured a much more prominent array of green and pink plants growing on the ocean flower, with two purple tails instead. Speaking of which, this final mermaid cake was completely purple and indigo, with purple and pink shells and swirls all around. It also showed two purple mermaid tails too.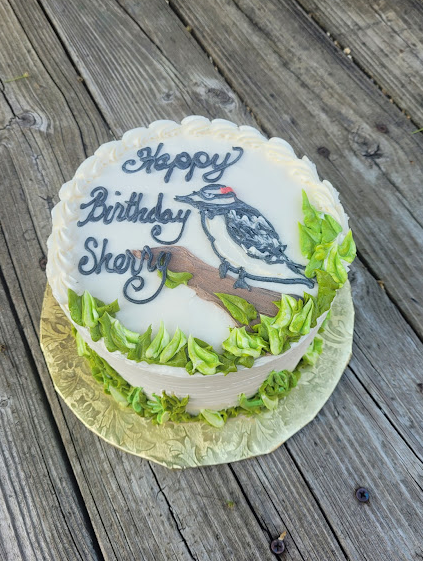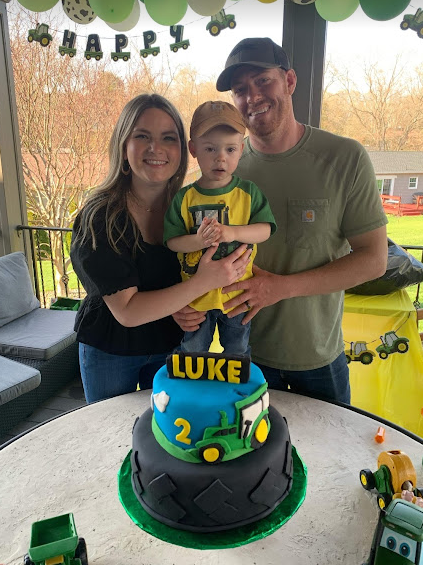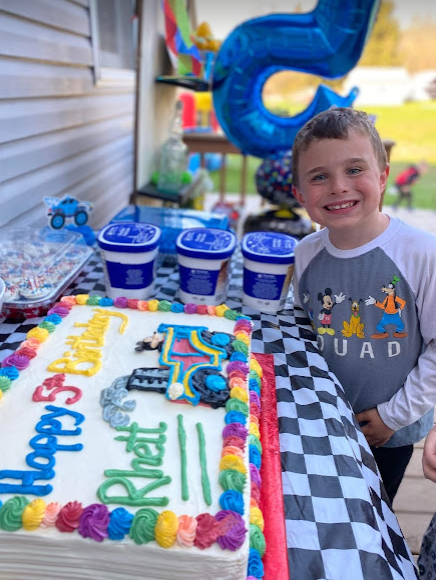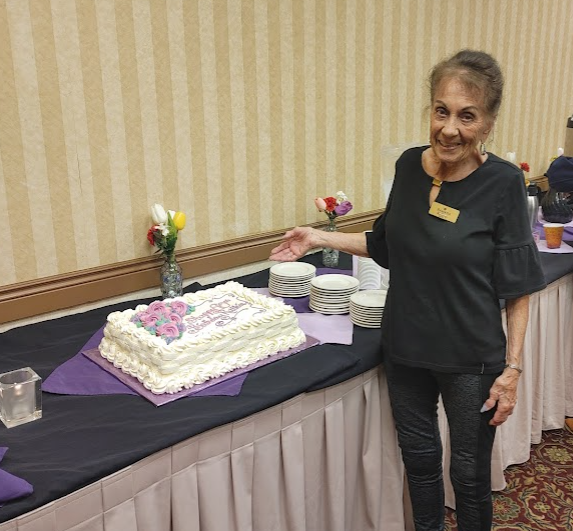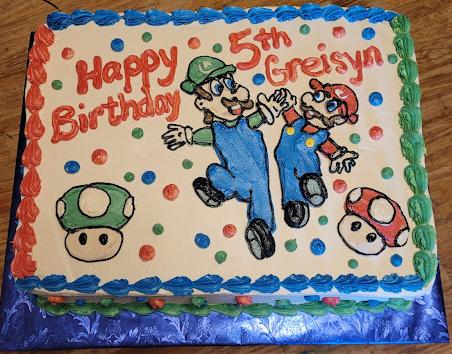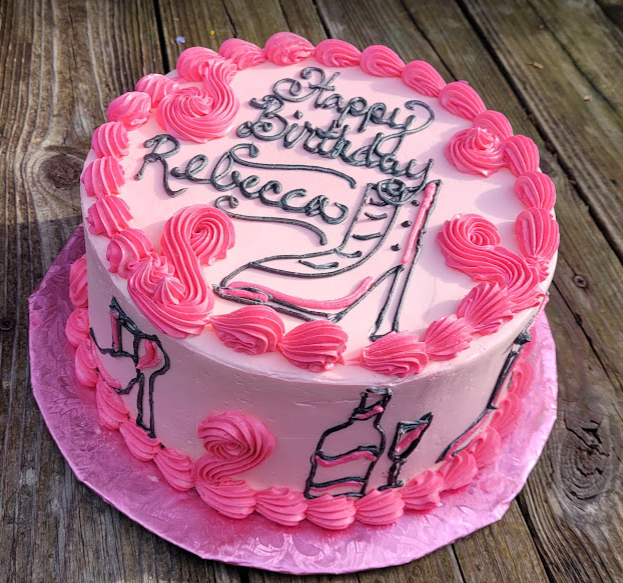 Continuing on with the wonderful birthdays, one cake had a gracious pink theme to it. It was a one-tier, featuring different drinks and a high heel drawing on the top of it. There was also a 90th birthday cake from these past weeks! Although you can't quite see it in the picture, it featured a beautiful array of purple flowers. Another cool cake was a two-tier, with the first being designed as a tractor tire, and the second showing a tractor design on it! One adorable cake was of Mickey Mouse, in a train! It also had this cute rainbow border around it. One cake I also saw was a wonderful woodpecker cake! I love birds, and this cake was so pretty! And what I believe is the last birthday cake of this blog post featured Mario and Luigi, high fiving each other. So, I hope you all had some amazing birthday celebrations!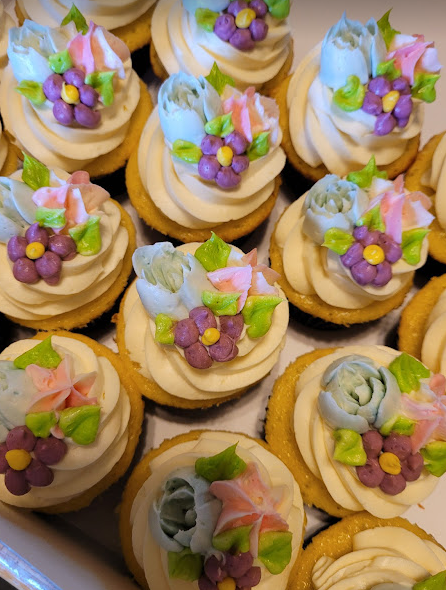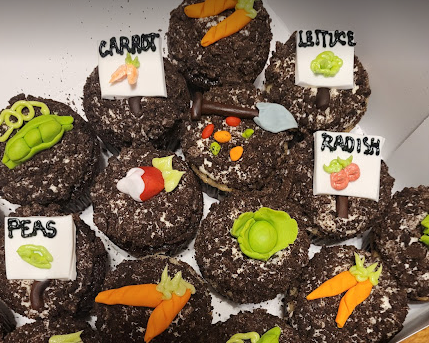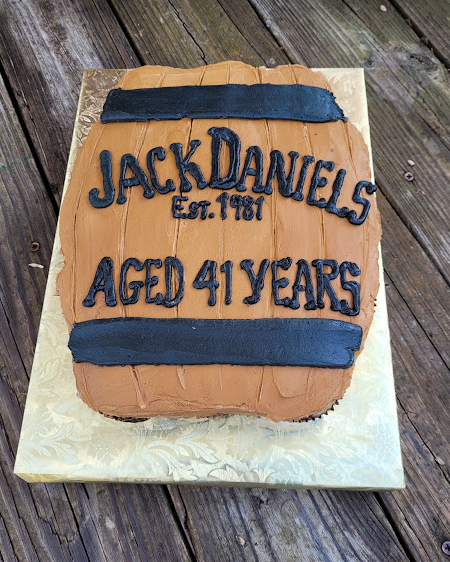 And you cannot forget about cupcakes! There were also some neat cupcakes from the past two weekends as well. I actually thought this first one, a whiskey barrel, was a cake at first until I looked closer at it. These cupcake collages of sorts are pretty cool, where you take cupcakes and ice them all at once, creating one design. Another set of cupcakes had some great floral designs on them. They had a small, light grayish rose, and pink and purple flowers too. I loved these garden cupcakes as well. They had a crumb topping which representing soil and had little plants on them! Peter Rabbit was the theme. I think my favorite part of these though were the signs 'showing' the different veggies that could be grown in the garden, like radishes! I hope you all had great celebrations too!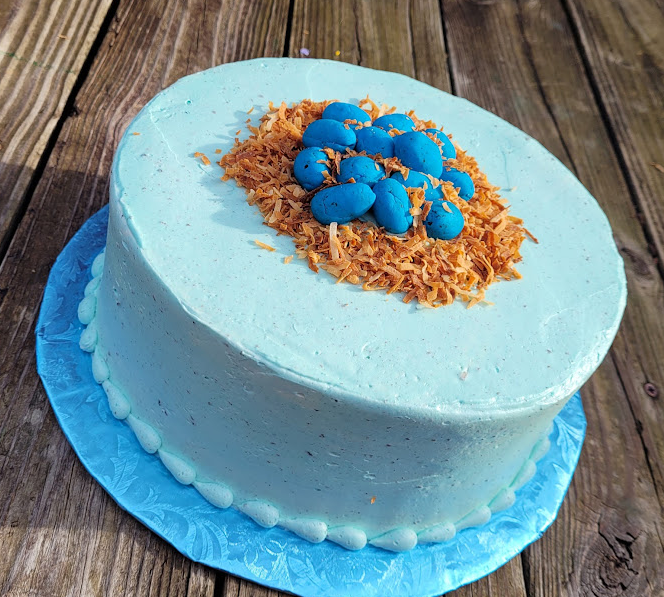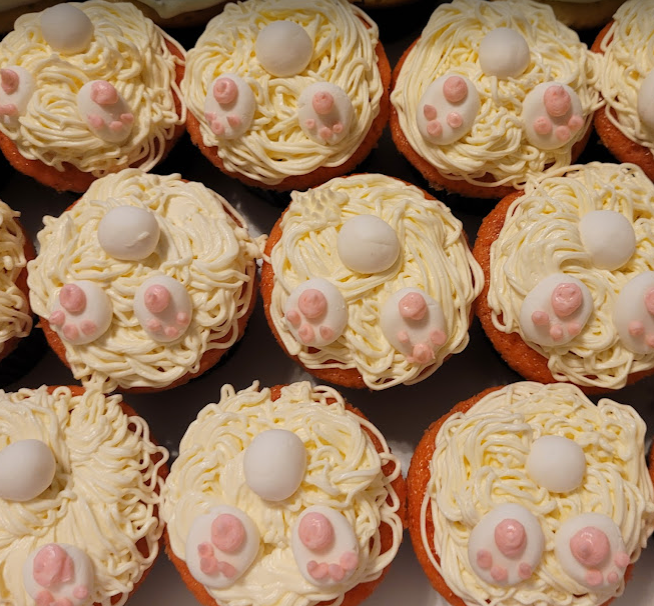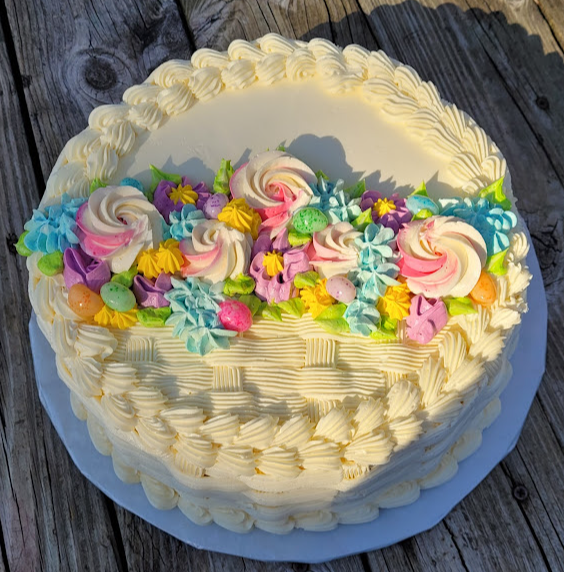 Speaking of cupcakes, there was a selection of Easter ones from these past few weeks! It was Easter a few weeks ago, and there were a few easter-themed desserts that had gone out! This set of cupcakes featured a little bunny, with its paws and little cottontail visible. I thought these were so cute! Another Easter cake was a 1-tier, with a 'nest' of blue robin's eggs on the top. I actually saw this morning a Robin making its nest near our house, so this is somewhat ironic! One other Easter cake I saw was one I see almost every year. It's a one-tier, designed with a basket weave, with the candy eggs and icing flowers overflowing it. This is almost like a reminder of the Easter season for cakes, as I remember this design from when I was little. Although very, very late, I hope you all had wonderful Easter celebrations!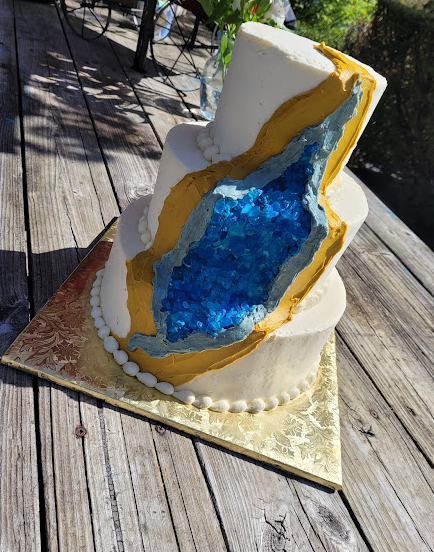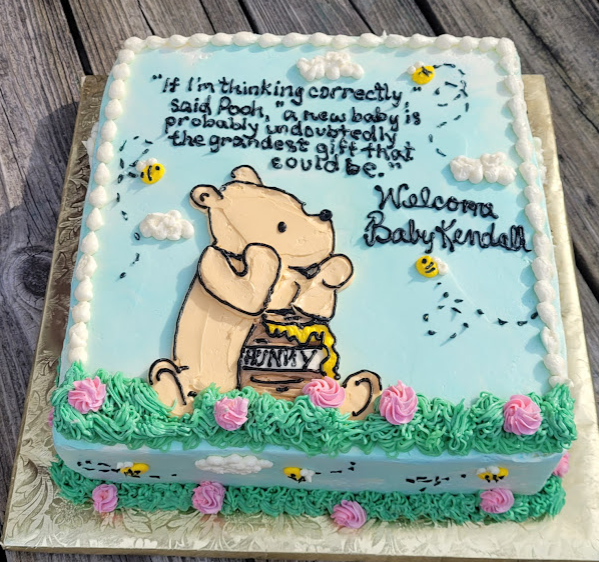 There were also some plain-out delightful cakes from these past few weeks. For one, there was an adorable cake to welcome a new baby to a family, with a little Winnie-the-Pooh! I grew up watching all of the different shorts of these characters, and this was just so nice. Another cake was very unique, which was seemingly 'cut' to show a rocky gemstone underneath. This was done with blue rock candy, and I loved the gold accent that went along with it.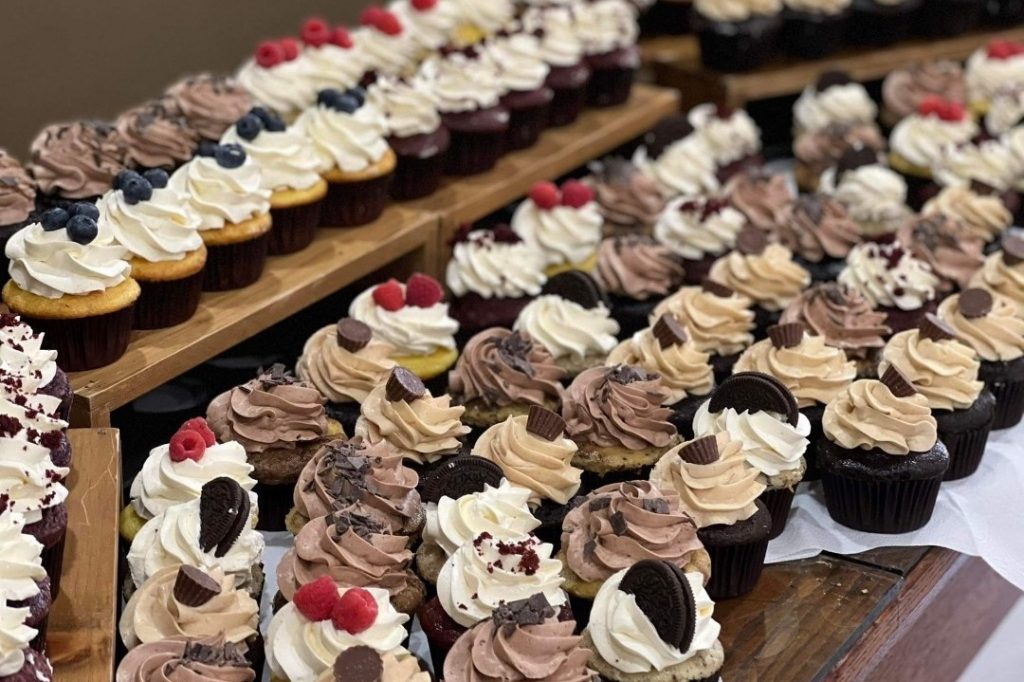 Not this last weekend, but the weekend before, there was an event called Toast for TJ, to celebrate TJ's life. We did cupcakes for this, and I am very happy that we were able to contribute to this celebration.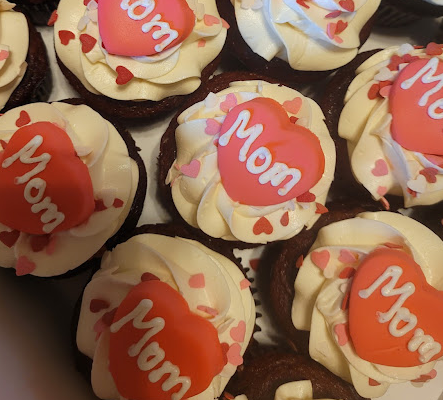 More recently, there was also Mother's Day! One set of cupcakes that went out featured little hearts with the word 'Mom' on them, and pink and red sprinkles. And to all the moms out there, I hope you had a great Mother's Day! And to my mom, I love you so much, and thank you for all that you do! With that, I hope you enjoyed this insight into our recent adventures in cakeland.