Hello, everyone! This week, or more or less this weekend, we had some amazing cakes, some also with great adventures. From beautiful places to unique cakes, there were many cakes and stories to talk about from this weekend. Enjoy!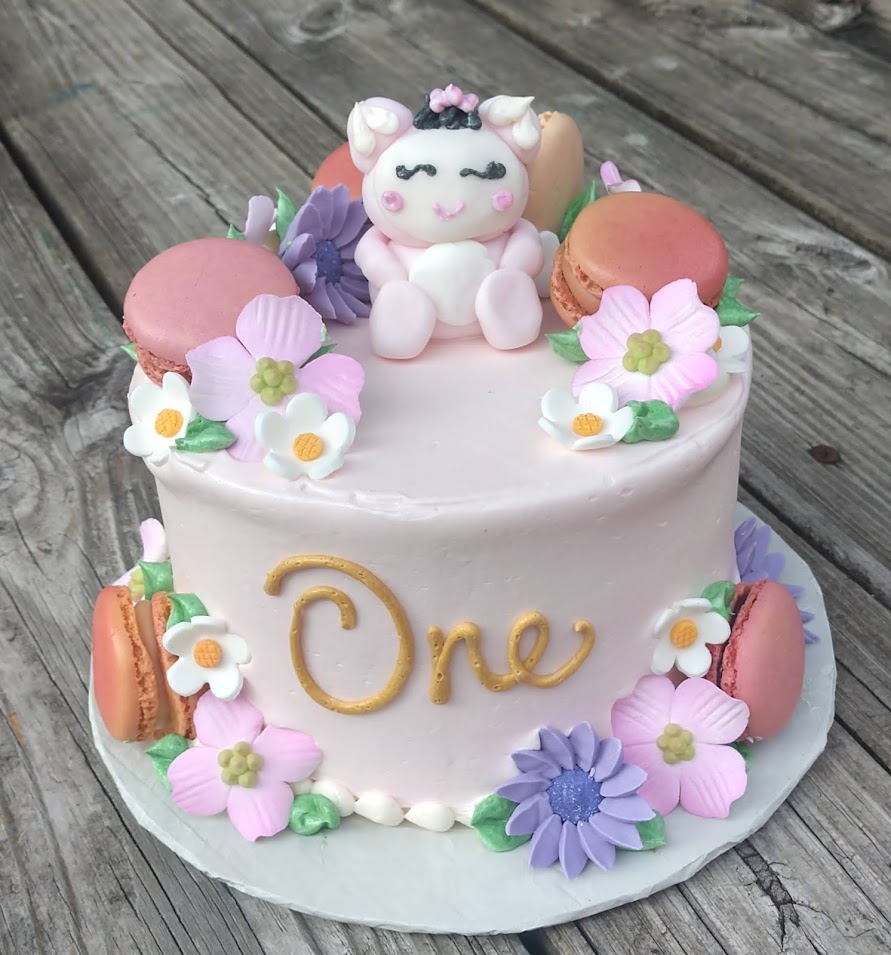 First, there were many little occasion cakes that just needed to be featured. From this weekend, one cake I liked in particular that fit this category was a 1st birthday cake. It featured beautiful macaroons, which we usually do not use that much. This cake was just plain adorable, with colorful flowers and golden writing on the side.
Another two  great occasion cakes I liked from this weekend were also camping-themed. The first had two pine trees, a tent, and a little campfire on a ground of oreo crumbs, which I thought was pretty cool. The other camping cake featured more of a modern take with it, featuring an RV and wooden chairs. Another cool fact, this cake was a wedding cake! Overall, I hope you all had some great celebrations, from weddings to birthdays and much more!
Another type of cake, no, wedding cake, that was done frequently this weekend was the naked cake! Three were actually done this weekend. One featured purely lots of green foliage, while another was decorated with red and golden flowers. The last of which, though, was a 4-tier wedding cake decorated with blueberries and lemons, representing the lemon cake with blueberries inside. The fun fact about this cake though? The reception was held at Beaver Stadium! Although I am not a huge football fan (sorry if that offends anyone!) I still thought this was pretty cool, and an amazing experience. My mom works at Penn State in general, so she actually knew several of the people working there for the wedding, on top of the other businesses hired for the reception. I believe we were on the fourth floor (which I remembered due to the fact that the elevator was very loud), so the views of both inside the stadium and the surrounding areas were pretty cool. I also got some pretty neat pictures, which I currently still need to print and put together. Like I mentioned earlier, my mom knows several of the members who were working at the stadium for the wedding itself, so we were able to get some pretty neat pictures of the stadium itself. My grandfather (and practically the rest of my mom's side of the family) are huge football fans, so I will be sure to send some pictures I got to them soon. I hope you all had some great wedding celebrations!
    Now, after a cake and venue like that, it would be pretty hard to top something like that, but I would say this also came in equal amazement to that: Alex's (my little brother) 9th birthday celebration! On Alex's real birthday, July 20th, my mom,  Sophia, and Elliot made a simple little cake with birthday candles, but also with gummy bears! I just thought this was kind of cute. For Alex's small birthday party we held yesterday (Sunday), however, that was a different story.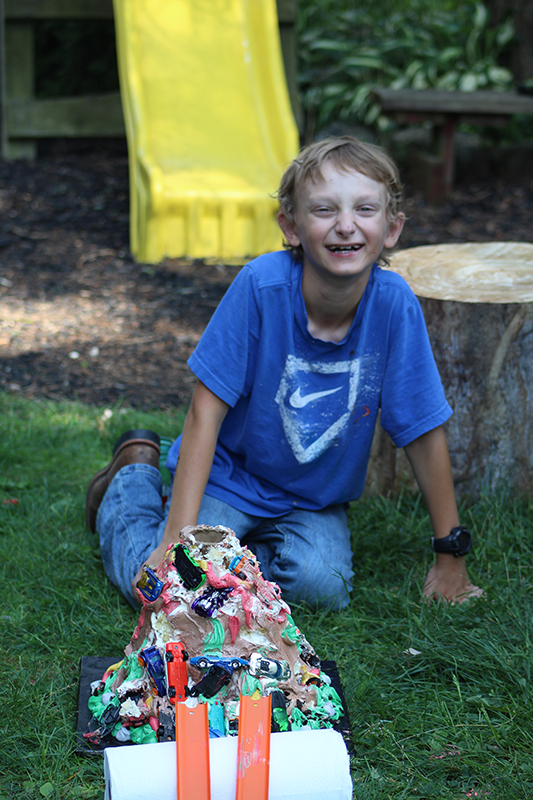 Alex, being the tech person that he is, looked up pictures of cakes online, and found a Hot Wheels one using real cars and tracks. Although it didn't look exactly like the one he found, I think it fit what he wanted. We ended up building a working car track into his birthday cake! For the main part of the cake, my mom had put two cardboard pipes onto the board for each track to go through, and then layered half sheets on top. Those two track pieces then went through the cake, and then onto a ramp (which we innovated to make with a paper towel roll), to jump into a volcano! It was pretty cool, except for the fact that no cars actually made it into the volcano, only destroying the sides. Most cakes (unless you count smashers) are not really "interactive", so this was very interesting and unique. I really hope you had an amazing birthday, buddy! It really made this weekend an adventure in cakeland not to forget.