Hello, everyone! At the time of me writing this post, my little brother's birthday (which I had hinted at last week) has not occurred, so I will actually be writing about that next week. I hope that is okay, and although that has not happened yet, there are a few cakes this weekend that I thought were pretty cool, so enjoy!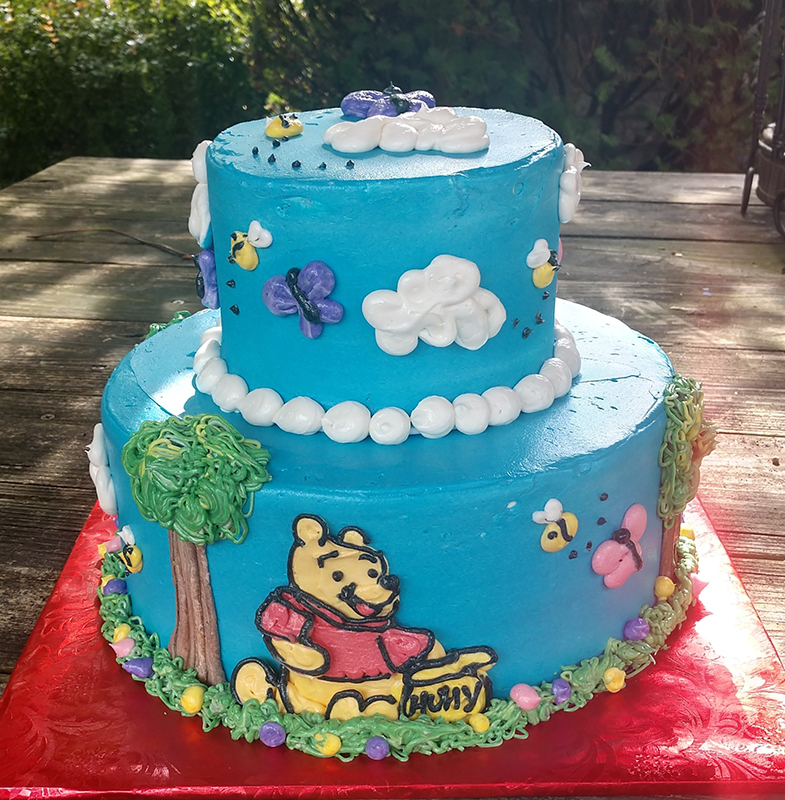 The first cake that I noticed while looking through the pictures from this past week was an adorable little Winnie the Pooh cake! I have not seen a cake featuring Winnie the Pooh in quite a bit (although I have written about them before). On this cake, there was a drawing of Winnie the Pooh on the side, eating honey (or, "hunny"), and other little trees, butterflies, and bees being featured along the cake. Speaking of which, we recently got Disney+, so Elliot has ended up watching a Winnie the Pooh series for the past two weeks that was on Disney Channel when I was little. So if Elliot had the chance to see this cake, he would probably love it (but he probably would have destroyed it first!). This cake was a baby shower cake, so I hope you had a wonderful celebration!
Another thing I noticed this weekend was an abundance of animal-themed cupcakes! One set of cupcakes had chickens and penguins, which were for a birthday. One thing I liked about these was that the penguins were designed so the white-shade of the face was in the shape of a heart! As well, there were some more zoo-themed animal cupcakes as well. These cupcakes were made out of icing (unlike the others, which were of fondant), featuring lions, zebras, and giraffes. These were both for birthdays, so I hope you both had a great birthday celebration!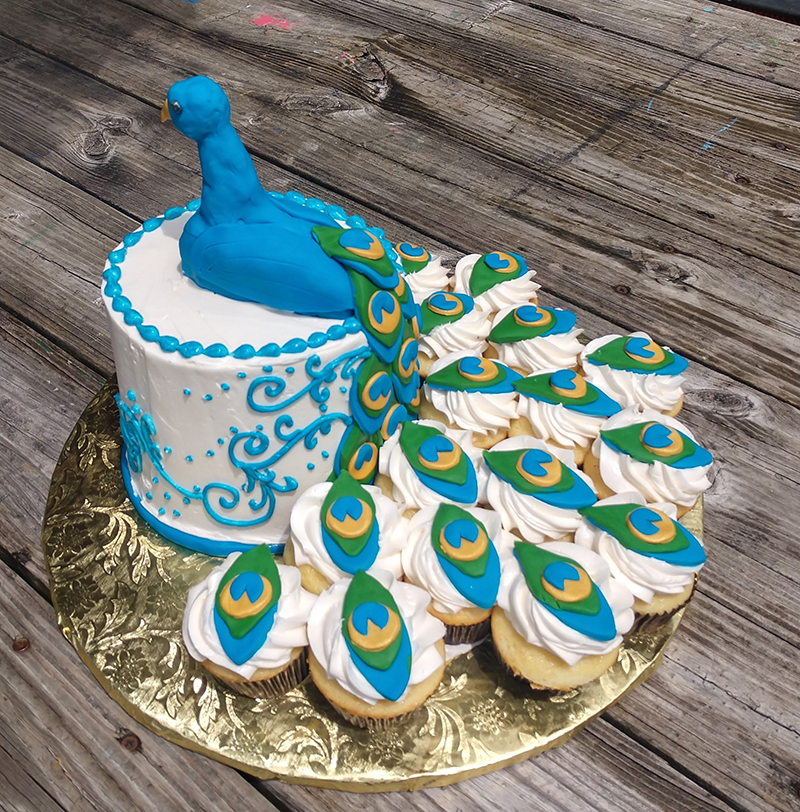 Finally, another cool animal cake was done this weekend: of a peacock! As of the time of my writing, my mom is actually still working on this cake, but I can already tell that it is going to be great! The cake itself is just one-tier tall, but it is made up of an array of cupcakes as well! The peacock, made out of fondant and rice-krispie treats, sits on the top of the cake, and the long feathers flow towards the bottom of the cake. Then, the cupcakes lay on the bottom of the display, where each has a fondant feather on it! Overall, it was a pretty neat cake, and very unique as well. This was a cake that someone ordered for their own birthday, as well as "the end from working at home"! So, congrats, that is pretty cool! There were a lot of cool cakes (and cupcakes) that went out this weekend, it was pretty hard to choose a few to feature in this week's blog. And, for sure, next week, we will have someone's birthday to discuss! I hope you enjoyed these small and great adventures in cakeland!