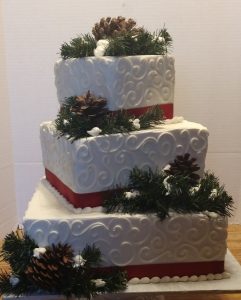 Hi, readers! This weekend, like many this time of year, wasn't quite as busy. But that doesn't mean we didn't do anything! On Saturday, my mom made this gorgeous winter wedding cake.
Even though my favorite season is fall, winter comes to a close second. Winter-themed cakes have always, and will probably always will be, my favorite. The are, in a way, simple and peaceful. You just have a little sugar here and there, beautiful greens, and big ol' pine cones littering the canvas of a cake.
This particular cake had thick red ribbons around it, with a nice, small icing trim on the bottom. Beautiful simple, in my opinion. Then, the cake had all this little swirls on the sides, with this bouquets of pine cones and pine branches to accent it. To top it all off, little drops of white icing to resemble snow were on top of the pines. This may seem like a lot to many, but to me, this is a simple and beautiful cake, partly for the sake of being wintry and simple.
This cake, along with many other winter cakes, are some of my favorite pieces that come into my adventures in cakeland.