Hello, everyone! These past two weeks, some great cakes were created, and some great memories were made. Although a short introduction, I hope you enjoy a lookback of these past few weeks!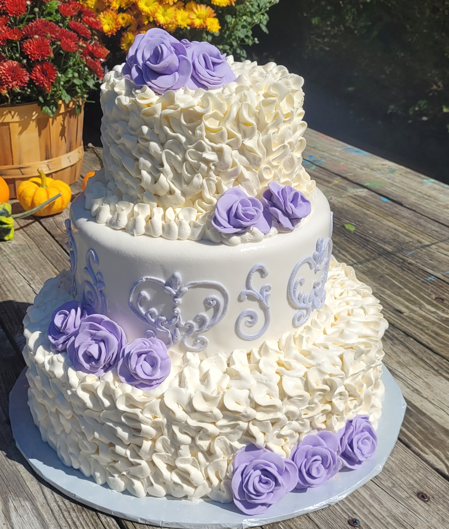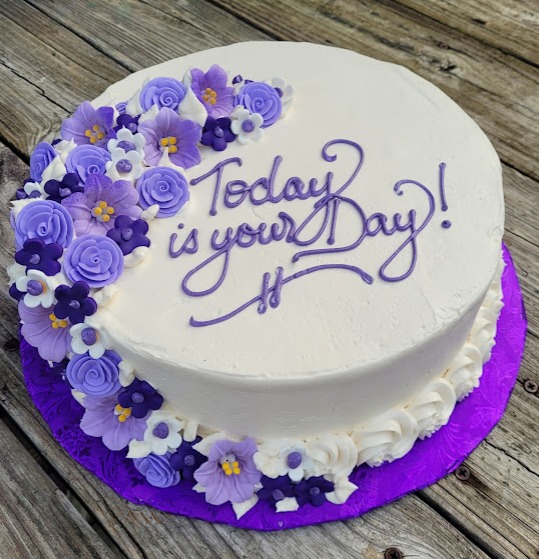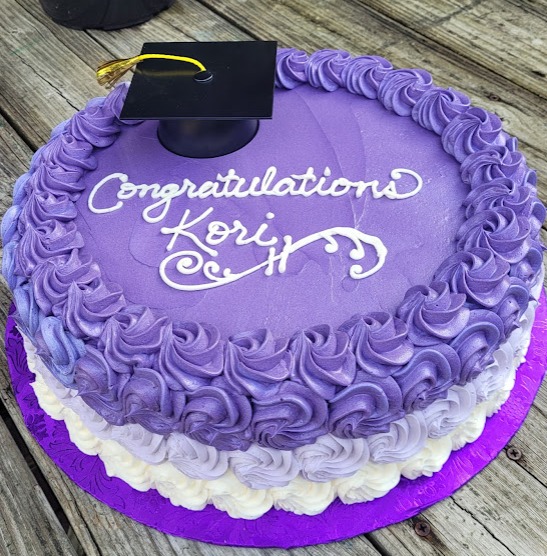 While looking at these pictures, I noticed that a few of the cakes featured one common color: purple! I usually don't see as many dominantly purple, or violet, cakes, so I thought this was pretty neat. This one purple cake featured a lot of this color. The top half of the cake featured a deep purple icing, and the bottom was in white. And, there was a little graduation hat! The next cake had a beautiful array of dark & light purple flowers, streaming down the side. I especially liked this one since it seemed to be so simple. These two cakes were actually from last weekend, but this last purple color was from this weekend. This was a wedding cake, with more of a light purple, featuring a fondant 2nd tier and white 1st & 3rd tier. The first two cakes were a graduation cake, and the other wedding cake, so I hope you had wonderful celebrations!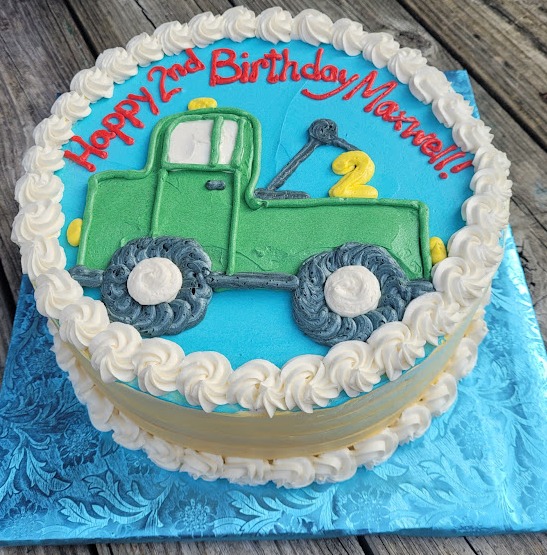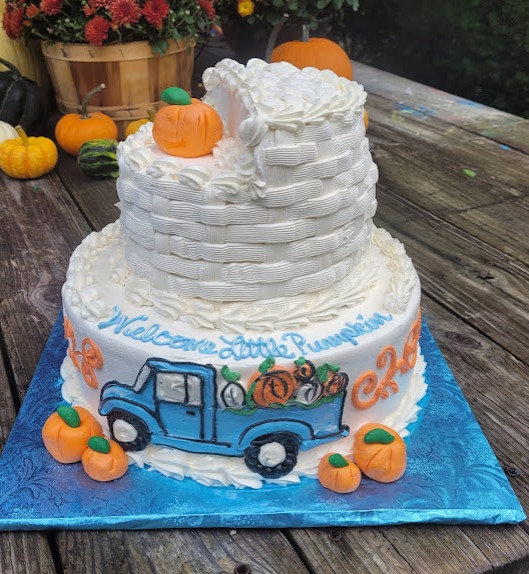 Speaking of more themes, trucks were also used a bit in these past two weeks. These two cakes were pretty cool. From last weekend, there was a neat green truck. For a birthday cake, this cake was small, but detailed, and picking up a little 2. As for this weekend, this one cake was to welcome a newborn. This two-tier featured an old-fashioned blue truck, with pumpkins all around the cake. There was even a little text, "Welcome Little Pumpkin". I thought this cake was pretty adorable. I hope you also had wonderful celebrations!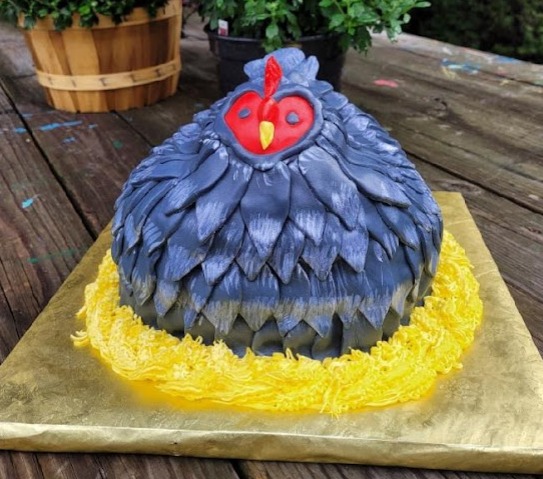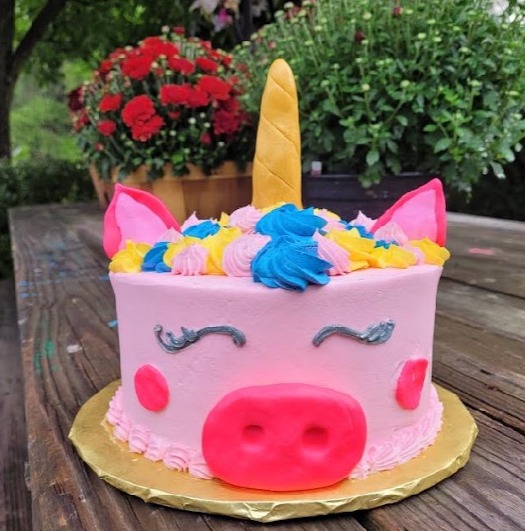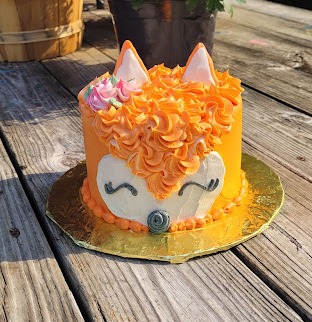 As always, there were also some awesome animal cakes. In our most recent relations, we had another chicken! I just think this one is pretty cute. My favorite part of this cake is the gray accent on each of the feathers. These animal faces, as I like to call them, are becoming more popular recently. In the past two weeks, two of these were done: a unicorn pig (very creative!), and a fox, which I have not seen before. I hope you all had wonderful celebrations!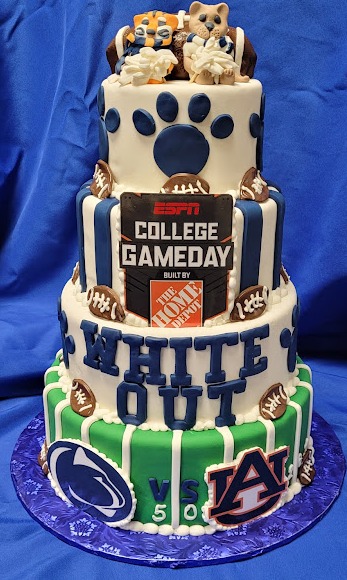 Although not related to Delectable Delights, my mom at her job at Penn State this week made the College GameDay cake for the WhiteOut game! I thought the little mascots on the top were pretty cute.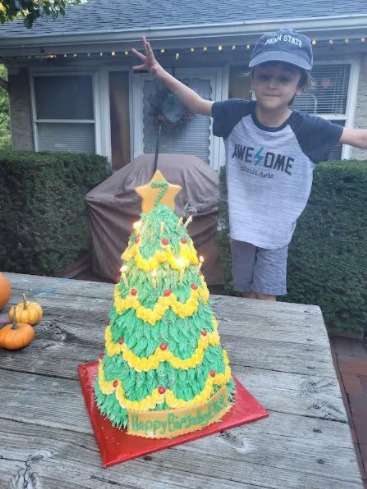 And finally, we also had a wonderful celebration this weekend that we just had to celebrate: Elliot's 7th birthday! Almost every time we look on his tablet, he is playing Christmas music (he absolutely loves it!), so my mom made a several-tiered Christmas tree cake for him! I think he liked it a lot. I hope he had a good birthday, we love you buddy!
Overall, some great memories were made in these past two weekends, from trucks to trees, that made for amazing adventures in cakeland for the record books.