Hello, everyone! I am so sorry that these blog posts have not been scheduled. Our semester is almost over at school, so I have been working mainly on school-related things these past few weeks. Anyways, there was so much that had happened. So sit down, this will be a pretty long blog post.
Last week, I was going to write a post about the time of fall. With that, it is such a beautiful season, fall. The leaves, those colors. But there is a small scary side. So, as a first to this, this past weekend, we had a few outstanding fall and halloween cakes I'd like to share.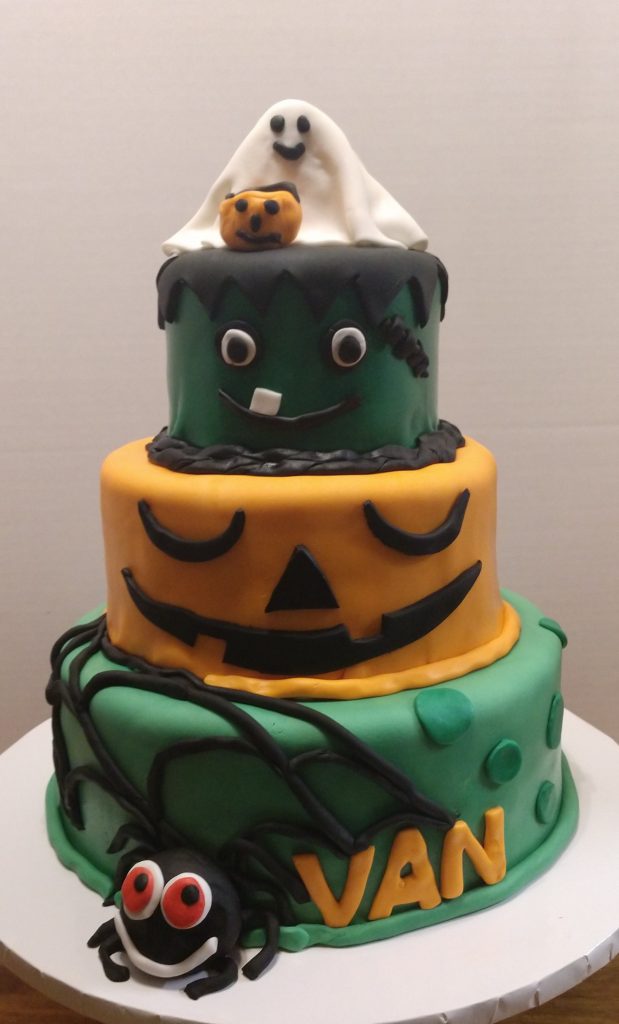 #1. Monster Fun – This cake was adorable. It was a three-tier cake, with each representing a monster. The first was a spider (or with a spider), the second a jack-o-lantern, and the third a frankenstein, with a little ghost on top. This was just a pretty neat cake I wanted to share.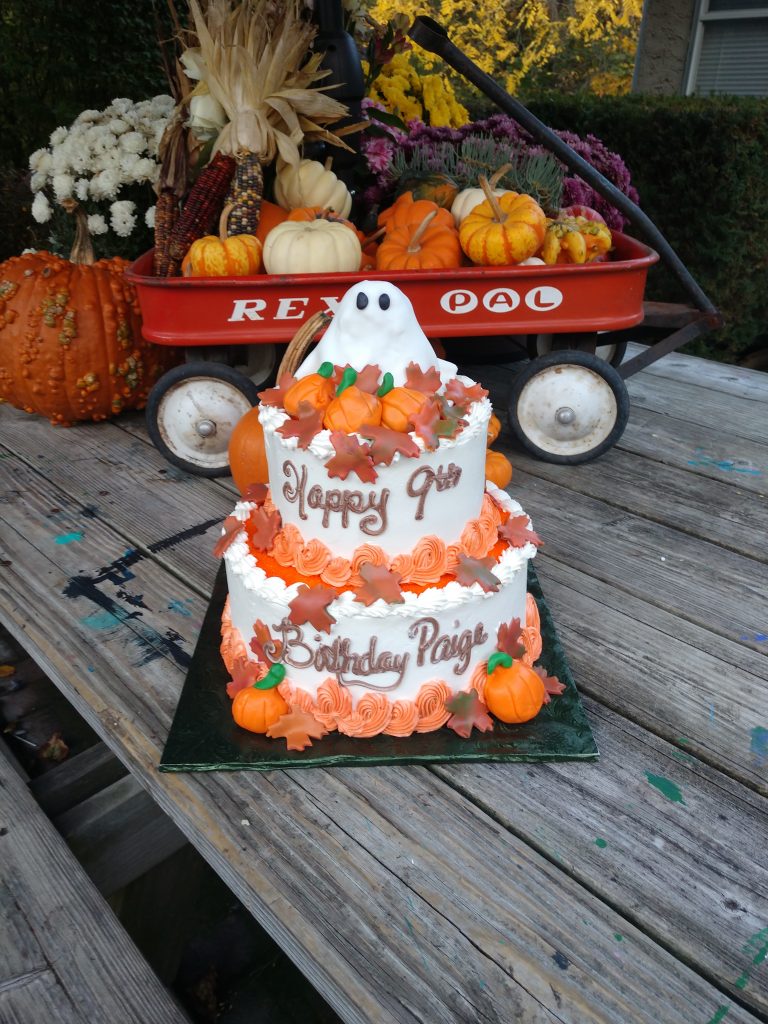 #2: Tiny Ghost – Okay, so maybe this wasn't this past weekend (it was yesterday) but it still counts. This little cake was for a birthday, And it was the simplest two-tier cake with orange borders, colorful leaves, you get it. But the best part was this ghost on top, which was so cool! However I had this cake, I hope you had an awesome halloween birthday!
#3: Halloween (The Movie) – As you might have seen from Facebook already, my sister's birthday was on the 19th (Monday). And she loves creepy movies. I do not. I hate them. Anyways, she wanted the cake to be the poster from the original Halloween movie. As I don't want to go into detail with this cake, you can see it for yourself. And also on the inside, the cake was red velvet to be blood… But she loved this cake, and it did look pretty cool. I think she had an awesome birthday. Happy 11th, Sophia!
Fall and Halloween cakes are super fun during this time of year. But there were two cakes done this weekend, that if were done separately, there would have been whole blog posts just about them. These cakes were pretty cool.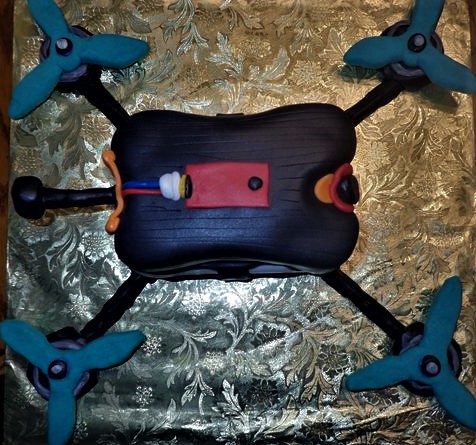 So, I believe on Wednesday, my mom made this amazing drone cake. It was so cool. It wasn't a drawing, but a real replica of one! I thought it was a pretty cool cake. But then, I found out the amazing backstory. The girl who got this cake, which I believe is now 16, made this drone. That is so cool! She is a FPV Drone Racing Pilot. She also, in these leagues (if I use these terms correctly) is no. 198 in the world, and the 2nd fastest female! And if that isn't enough, she goes by Pi Fly, because she also loves the number Pi. And this isn't just a small liking either. She has memorized at least 200 digits! And I thought 15 was pretty good. These are such amazing accomplishments. Congrats to you! And I hope you had an amazing 16th birthday.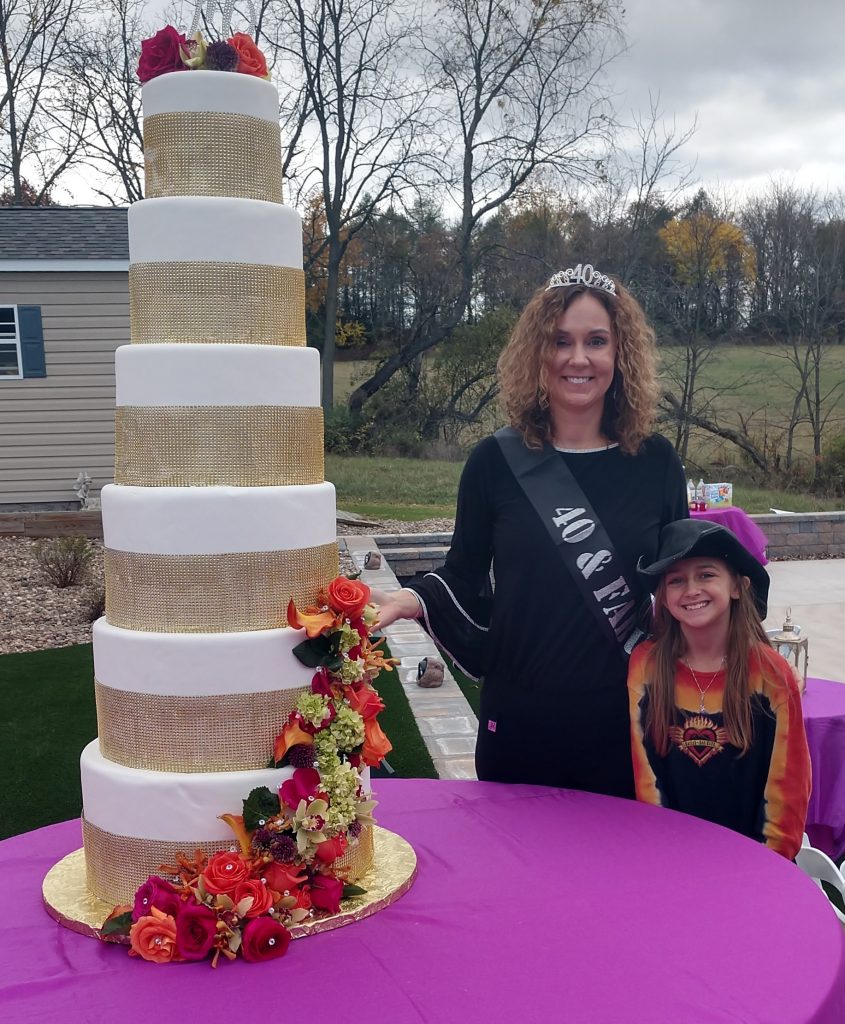 This is not all, but we have come down to the last cake. This cake is staggering, quite literally. The cake is huge. 4 feet tall. It is very tall. This was a cake that needed two people to deliver, which meant we had a family fun trip. I didn't get to see the cake get assembled (it was so big we had to haul it there in pieces!) but my sister did. She even got to stand with the birthday girl and the cake, who was no other than Monteca Beisel. I hope you had an amazing birthday! 
These cakes from these past weeks are ones that are definitely crazy. Of course in a good way. From flying drones to creepy cakes, these cakes were ones that fit this odd time of year. A passing of time to Fall to Winter, and of the creepy crawlies. But, no matter what, these adventures in cakelands are ones to go in the books for sure.