Hello, everyone! Not much of an outdoor adventure has happened in the past month, but some indoor ones have! Like I have been talking about in the past weeks, some amazing cakes have been ordered. Although, there hadn't been only just that.
This weekend, my mom had a cake order for a 2-tier cake. Now, since it was going to be snowing hard this weekend, they ordered only a few, small, cupcakes. Even though these cupcakes were fairly simple, with only a small flower with silver sprinkles, why did I choose them?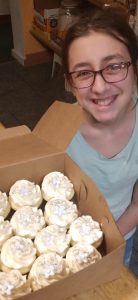 You see, the couple who would be receiving the cupcakes would be having their 60th Anniversary, better known as a Diamond Anniversary. To me, I find that amazing. Being married for 60 years! When I was doing some research for this blog, I found some amazing information on the Diamond Anniversary.
For example, did you know that these anniversaries were popularized after Queen Victoria's Diamond Jubilee? Or that you should give them a bouquet of 6 white flowers, one different one for each decade of marriage? If you want to see or find more information for these anniversaries, search them up! There are amazing resources for these Diamonds. In all, I just want to say congrats to the couple, and I hope many happy years after for you two! This was an adventure in cakeland I hope I don't forget.