Hello, everybody! These past two weekends were filled with some amazing cakes, which I hope you enjoy taking a look at!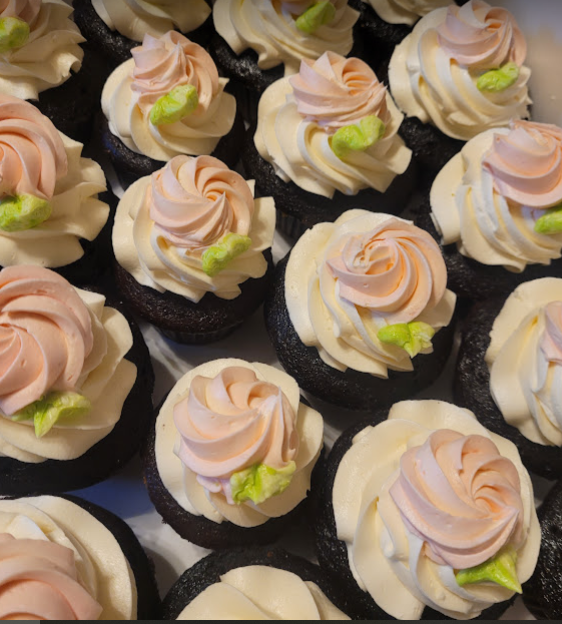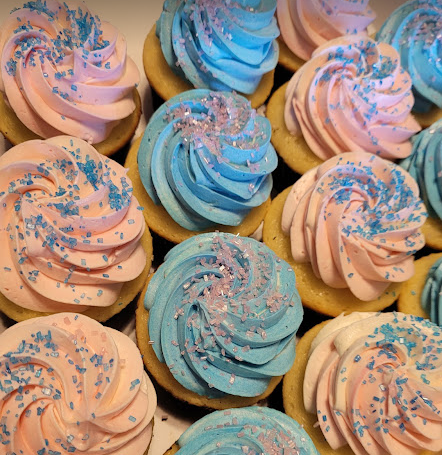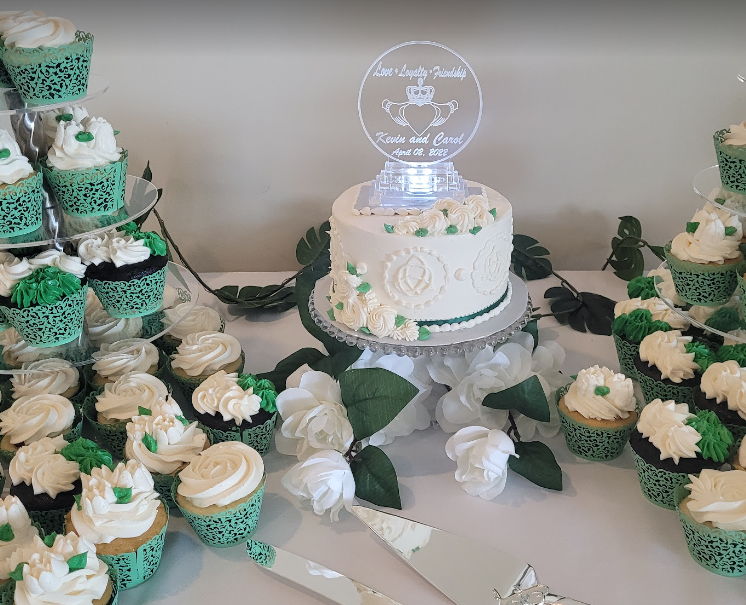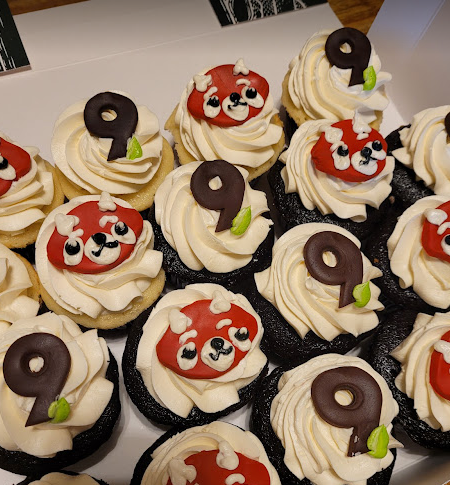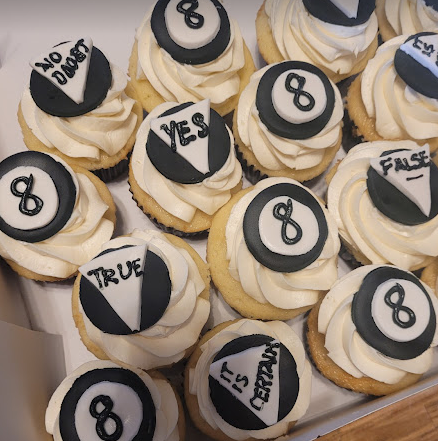 Jumping right in, from these past weeks, there were a lot of cool cupcakes. One of these sets was of simple icing roses. Now, I am personally not a fan of icing (I see it all the time), but I thought these roses were very elegant. I also am working on an art project at school with roses, so I have been in the rose mood, if you will, recently as well. Another cupcake set was for a gender reveal party, and had blue and pink icing, with either blue or pink [the opposite of whatever icing color was on] each cupcake. I loved the colors of these cupcakes. One group of cupcakes were also for a wedding, with some having green leaves in them. The thing that stood out for me though was the cupcake holders around each of the cupcakes. I actually put these together. When we get these holders, it's usually my job to do these, and I think it's great that I can help add these little touches to these events. Another [yes, I said there were a ton!] set of cupcakes featured a red panda design. These actually went along with a birthday cake, which I'll talk about a little later on. These cupcakes were just adorable, I loved the little red panda faces, and the '9's reminded me of the old fondant cut-outs that there used to be a lot of when I was little. This other group of cupcakes was very unique: Magic 8 Balls! I thought this was innovative, and I cannot remember seeing cupcakes like this before. I thought it was great that they were not just the '8' either, but the different phrases you find when you shake it, like 'false' and 'it is certain'. I hope you enjoyed your many cupcakes at your celebrations!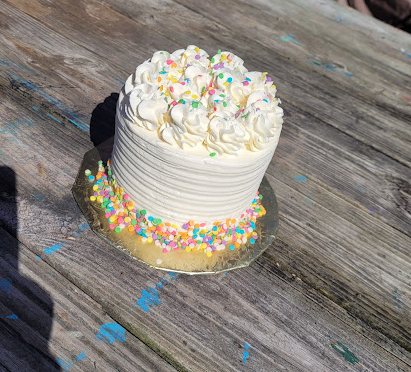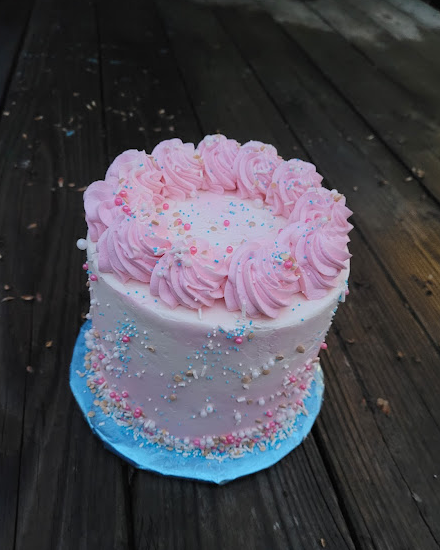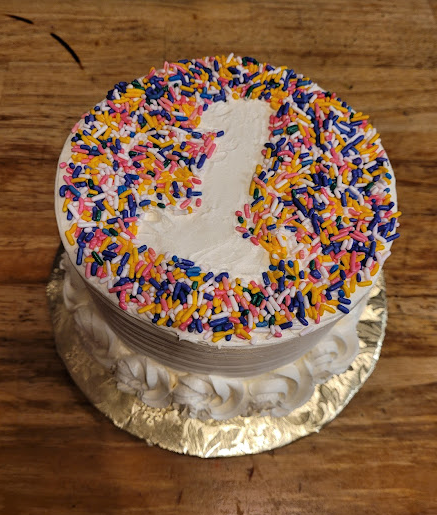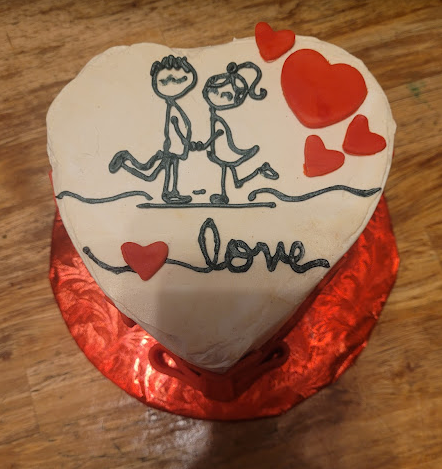 One kind of cake that is sometimes ignored are these small ones [I really don't know what else you'd call them]. Most of the time, they are these small, 1-tier cakes. One of these from this past week was one that had simple rainbow sprinkles, which I like. Another one, which I saw my mom do, was this cute pink one, having different silver and gold beads around the sides of the cake, not just on the edges of the top or bottom. There was also a 1st birthday cake, that was covered with sprinkles at the top, except for one section, which was empty, showing a '1'! I thought this was very colorful. As for a unique one for this, as I was going through the pictures from this weekend, I saw a heart-shaped cake, with these little stick-figure guys on it! We usually don't have many odd-shaped cakes, so this was pretty cool. I hope you had wonderful celebrations!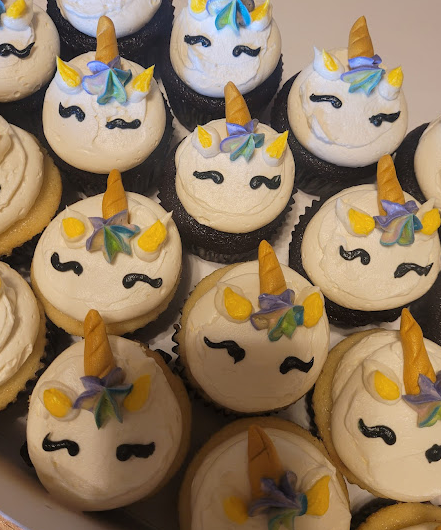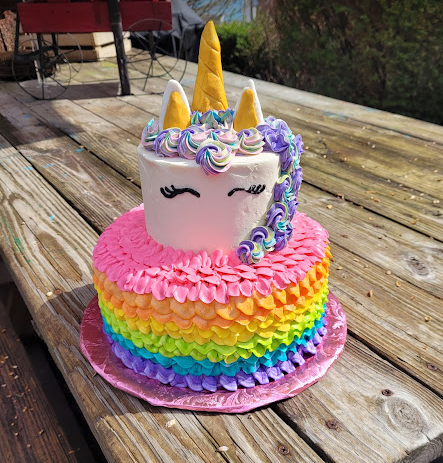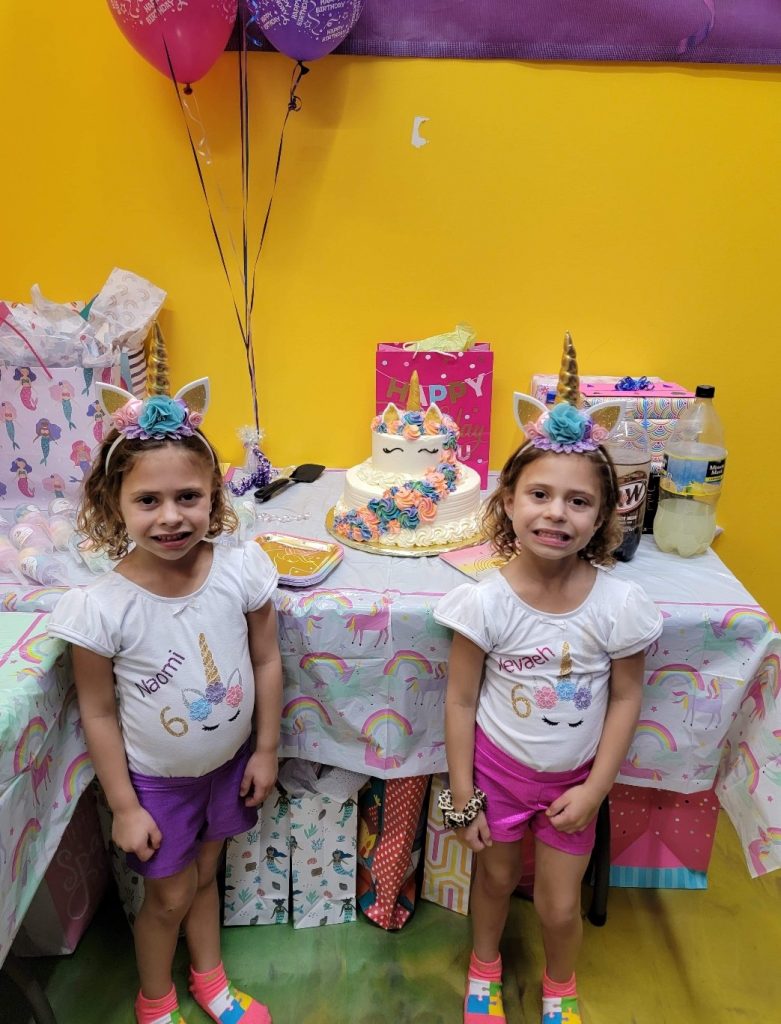 Although a small thing, there were several unicorn cakes from these past weekends as well. Both were two tiers, and the first featured a first tier of a rainbow design. I also loved the purple/blue icing hair on this one. The other unicorn cake featured a broader hair design, with beautiful colors in the hair too, with the icing mixing to create blue/green and orange designs on it. On top of that, there were also unicorn cupcakes [these are the last ones, I promise!] that went with the first cake too! I thought these were so cute, with that one dot of icing as the hair. I hope you both had wonderful celebrations too!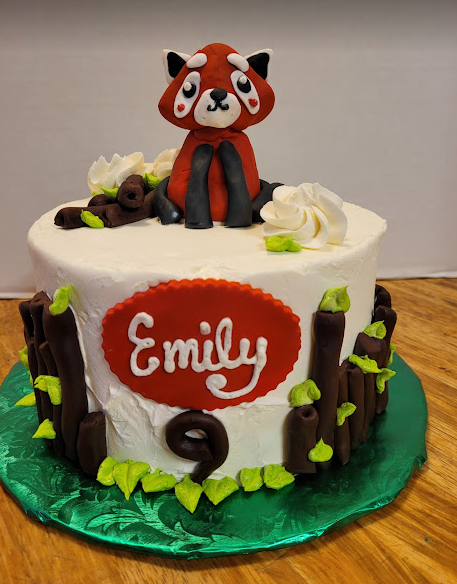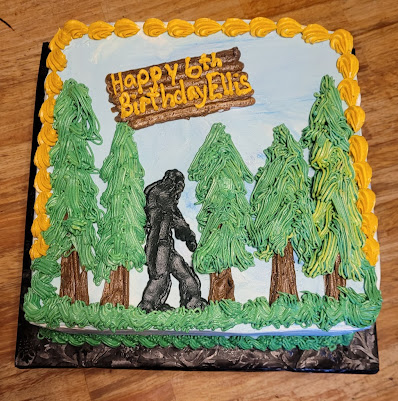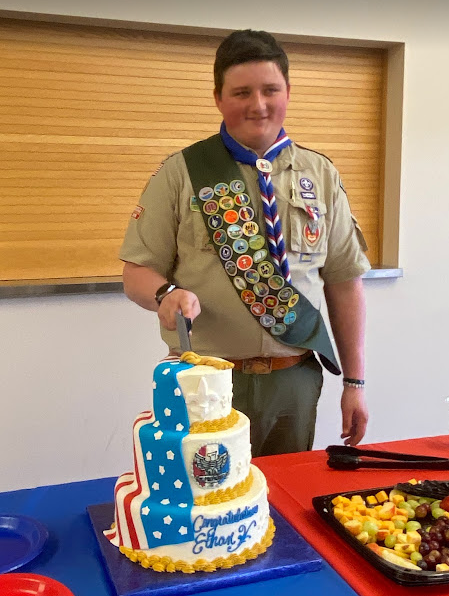 Just in general, there were some other amazing cakes too. It's sometimes pretty hard to put cakes in categories, especially when they are all so interesting in their own ways. I had said earlier that the red panda cupcakes also went with a red panda cake! This cake featured an adorable red panda on the top, with little bamboo stalks around the sides of it. Another cake had a basis on the opposite side of the world, with bigfoot lurking in a forest. I liked how the little message for the cake was written on an icing wooden board. One cake was also for a boy scout's Eagle Scout celebration. I thought this cake was great as well, with the flag design being draped down the edge of the cake.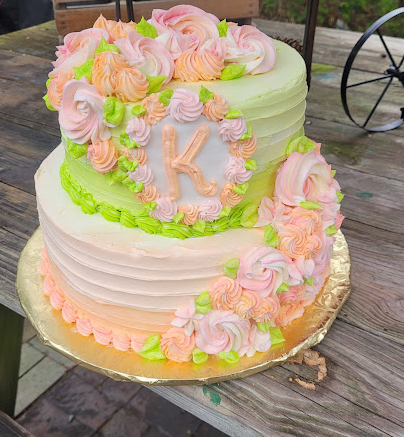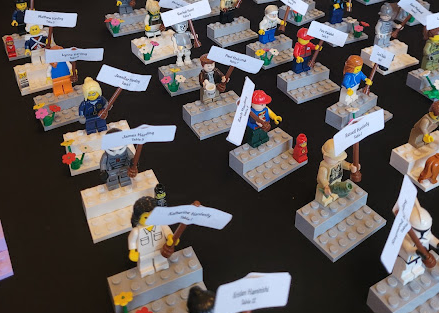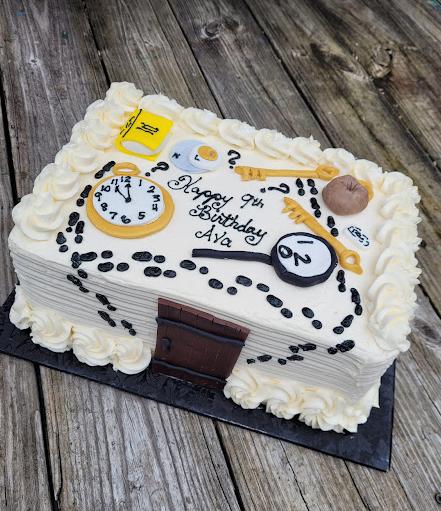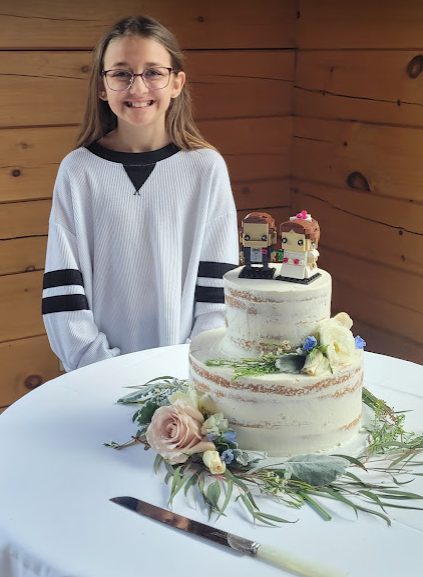 Another cake I liked was a detective-themed cake. I just loved the little footprints that went around the cake, and that pocket watch too! This other cake also had a much more simplistic look. It was two tiers, with light pink and light green, and many icing flowers. I just loved the color scheme of this cake. Probably the most unique [and that's saying something] thing that I had saw this weekend was not actually a cake. I didn't go on this run, my sister and mom did. They dropped off a wedding cake, which on its own was pretty cool. It was one of those naked cakes, with wonderful flowers and greens around it. But this was a Lego-themed wedding, with the cake topper being Lego people! The thing that they ended up showing me though was the place cards for the attendees, which were individualized for the person! I just thought this was so neat. I hope you all had amazing celebrations as well!
Well, I hope you enjoyed this little look into cakeland for these past two weeks!