Hello, everybody! I am sorry that it has been so long since I have written my last post here, there has been a lot of stuff going on with school and such. I hope this one can make up for it, featuring a few different highlights since the last time posted! Not all the cakes can be mentioned, but I am back on track to make sure that most of them now can be, every week! I hope you enjoy them!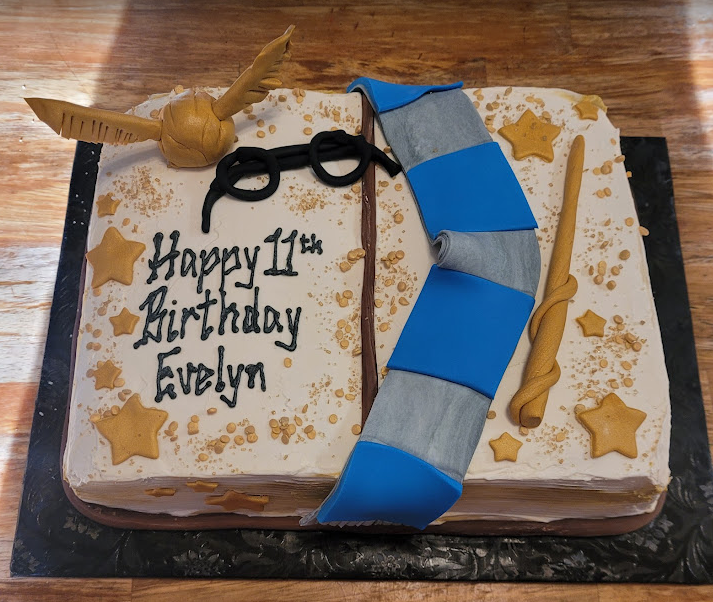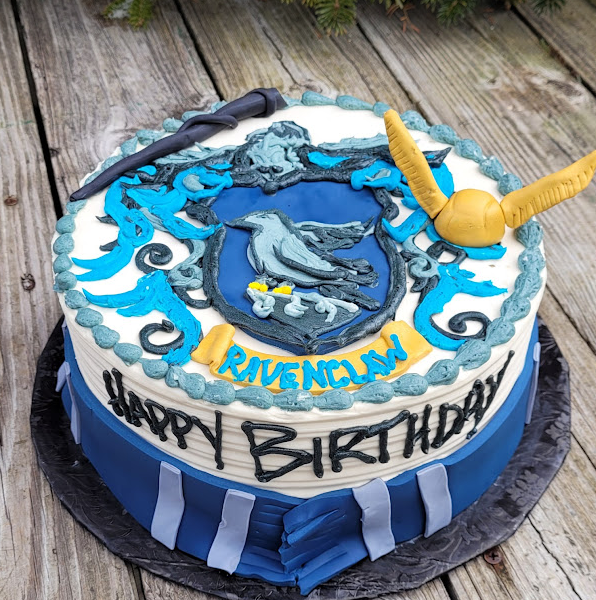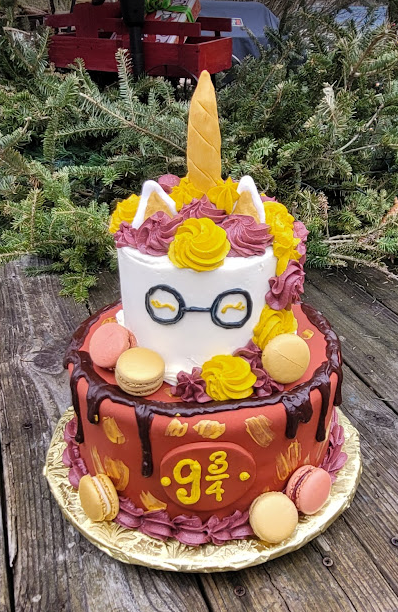 One group of cakes in particular stood out to me: Harry Potter cakes! There were actually a good number of them, but the following ones are my top 3. The first cake on this list (and by the way, they have no particular order, they were all pretty cool!) was a Ravenclaw cake. Now, actually two of these were Ravenclaw cakes, but they both were pretty unique! This first one though looked like a large open book, with a scarf of the Ravenclaw colors, and other assorted items from the book. I thought the jagged writing to match the book's title font was neat on this one. The other Ravenclaw cake featured much more of the Ravenclaw's colors [blue and yellow], a smaller cake overall with the Ravenclaw logo on it. I thought this one was such a sweet cake. The final Harry Potter cake in this list though was very interesting – in a good way! It was a unicorn cake, with the 1st tier being of the traditional Harry Potter colors [from Gryffindor] and the top tier a unicorn, wearing the Harry Potter glasses! This was just so adorable. I hope you enjoyed your cakes!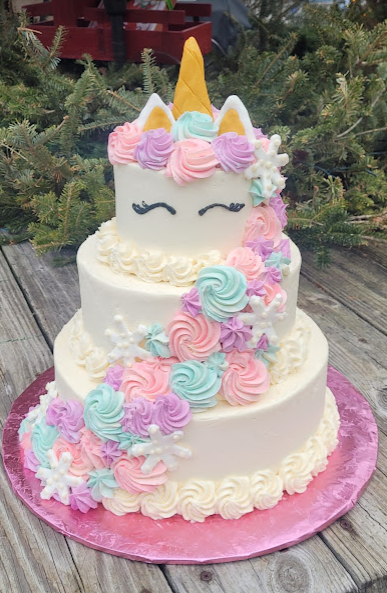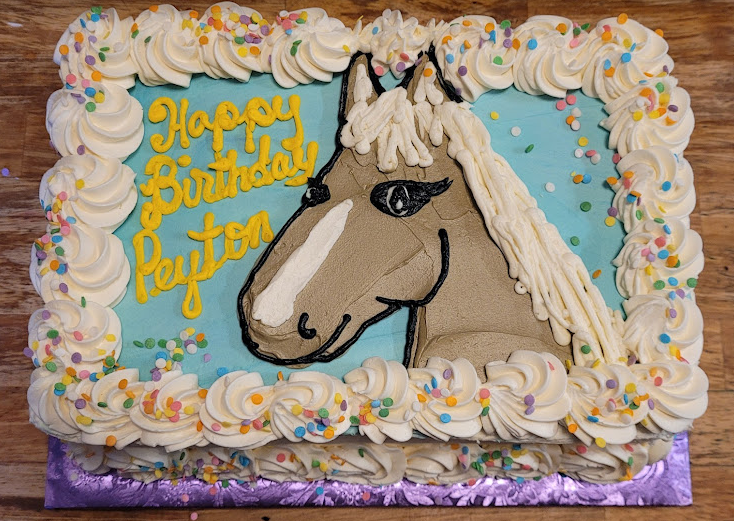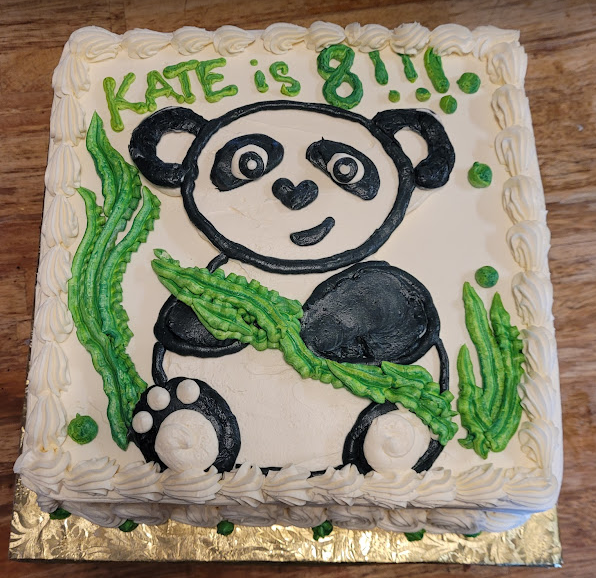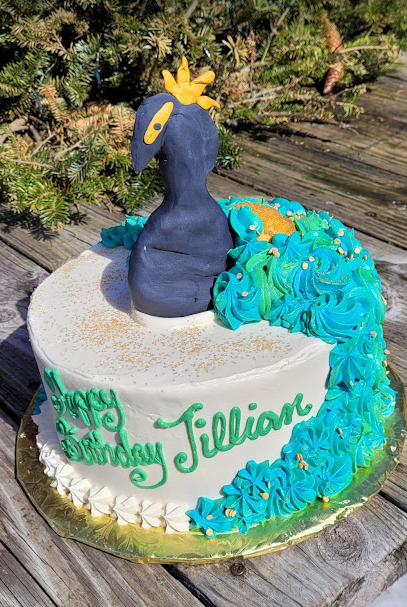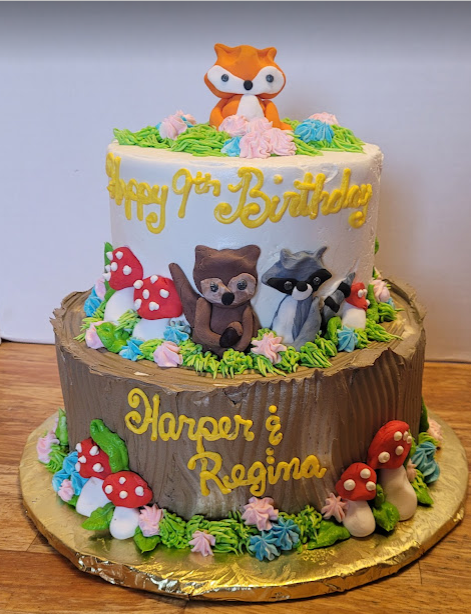 Speaking of those unicorn cakes, there was another one that was cool, and some other animal cakes! As for this unicorn cake, I thought it was different because, instead of just one tier, it was three! And I love how the flowers just sweep down the side of the cake. Another great animal-themed cake featured a wonderful horse. I love the sprinkles and the blue background on this one, I think it is pretty cute! One cake also showed off a panda, which is actually my sister Sophia's favorite animal. I'm pretty sure she'd like this one! I love the bamboo that this panda has in its hands, I think that is an interesting detail! Another animal cake that I just loved was a peacock. For this, a peacock was molded out of fondant, and the feathers were along the cake, draping once again down the sides. I think this is so graceful, and I loved the color scheme! The final animal cake I'd like to mention shows some of my favorite kinds: those woodland creatures! I'm sorry, but I love these little guys, they are adorable! This cake in particular was a two-tier, with a tree-stump bottom, and several fondant woodlands guys and red mushrooms around. Well, I hope you enjoyed your cakes too!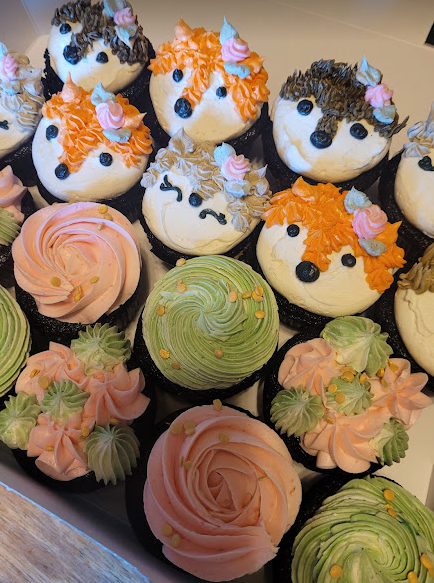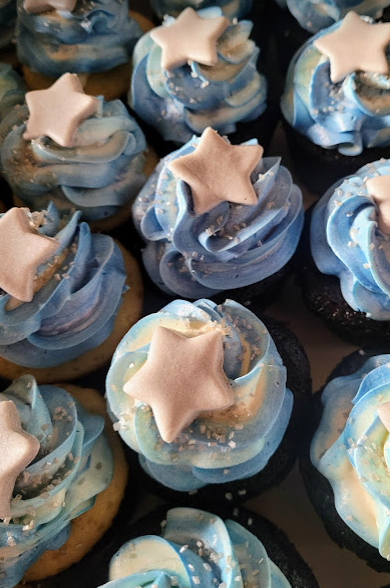 Besides a woodland creature cake, there were also woodland creature cupcakes! One group of these cupcakes that I liked from the past weeks featured more of a flowery touch. The other cupcakes with this batch had simple greens and pinks, and the animals had a hairy texture created with the icing for them, having flowers along the sides of their heads! There were also several of these galaxy-themed cupcakes too. I think these color schemes are so interesting, and the fondant stars on top just make them a lot better! I hope you also had wonderful celebrations!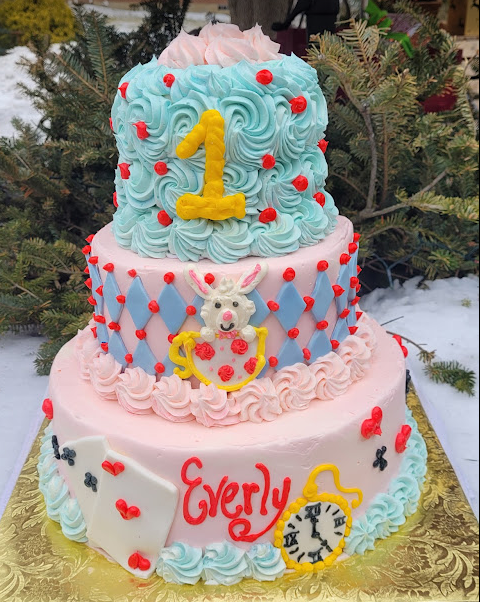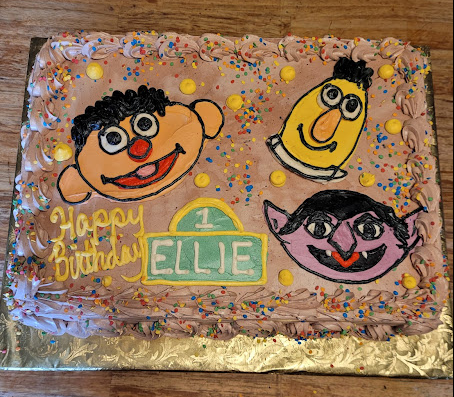 Throughout the past few weeks, there were also some great 1st birthday celebrations as well. One of these cakes was a Sesame Street cake, featuring the faces of Bert, Ernie, and the Count. One neat little detail I liked about this one was on the street sign, it said how old the kid was going to be! Another cake was Alice in Wonderland-themed. I thought this one was so pretty! I think I liked how this one had the small pocket watch at the bottom, and the 2nd tier with its diamond pattern. I have always loved this traditional pattern, and thought it was neat to see it used in a newer way. I hope you had wonderful 1st birthdays!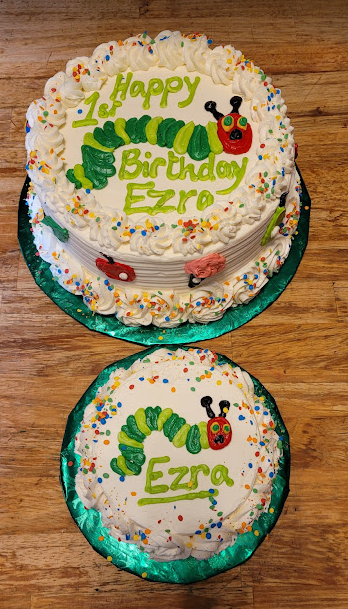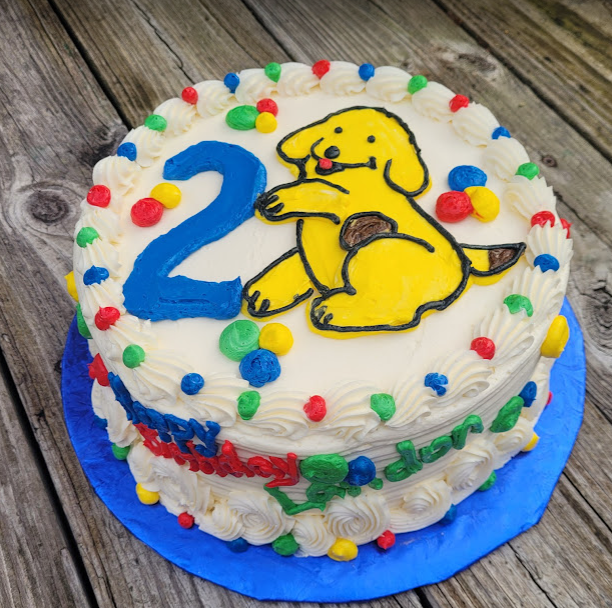 One interesting kind of cake I also saw were two based off of children's books. The first was one of Spot the Dog, and this just struck out to me. I loved these classical colors on this cake. I know this is a small touch, but one thing I also liked was the outline of the dog, Spot. This reminded me greatly of those older cakes, or at least the ones I remember seeing in the now-defunct binders of cake photographs that customers could look through to see what kind they maybe wanted. They are actually still in the closet, the predecessor of today's Pinterest! Back on point, another cake was of the Very Hungry Caterpillar. I remember reading this book when I was younger, and I thought this cake was so adorable! And the little smasher cake too! I hope you both had wonderful celebrations!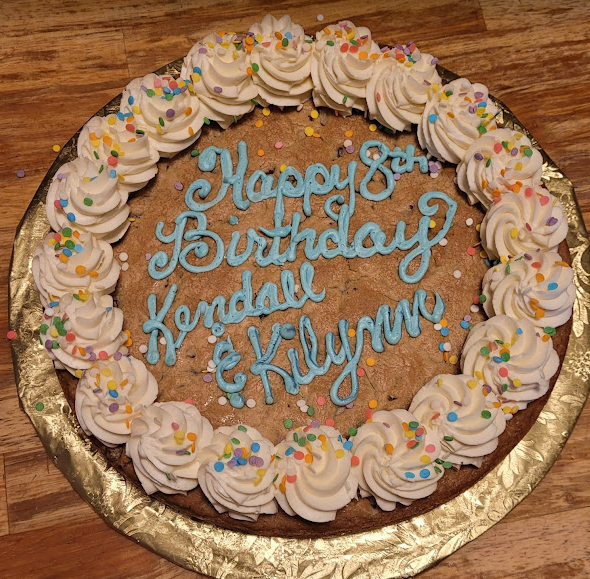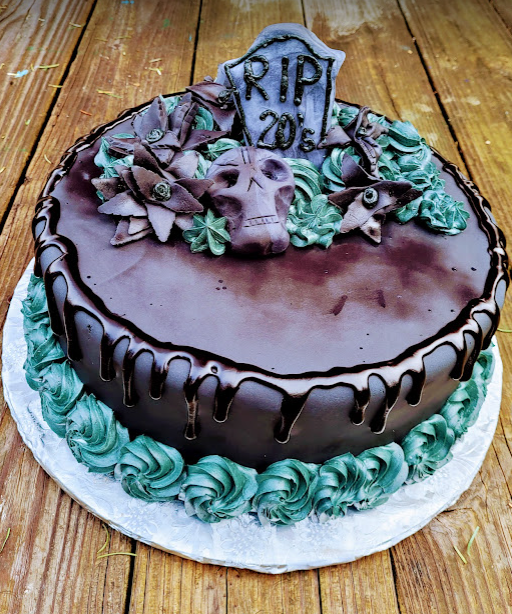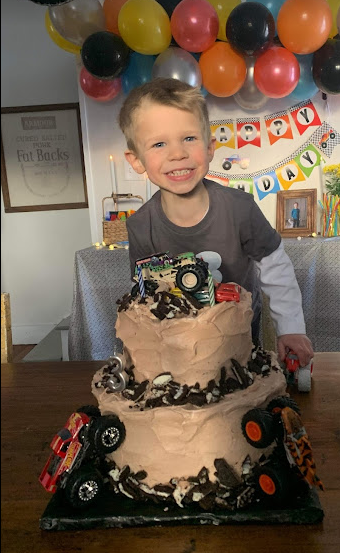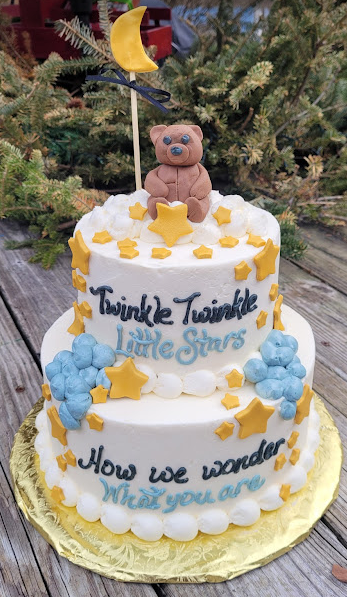 Okay, there were a lot of amazing and interesting cakes that went out in the past weeks, and it is impossible to mention all of them! So, these are the top picks of the little odd ends, the ones that are just as important, but may not always have the perfect theme. Which, by the way, is perfect, and sometimes, these are my favorites! Anyways, one of these cakes was a gender reveal cake… for twins! I thought this little cake was so cute, with that teddy bear on top! And the play on the words helped add to this too: "Twinkle Twinkle Little Stars, how we wonder what you are". A cake I actually saw a few times throughout the past few weeks was these wonderful monster truck cakes! The one shown above is a prime example of this, and I have always loved this rocky texture [and the Oreos – I love Oreos!]. This next cake was a bit more of a comedic one, showing a grave [it's not that creepy!] stone saying 'RIP 20s' for a 30th birthday celebration. I thought the design on this cake was neat, and the icing colors matched perfectly with the fondant. This next cake, well, it wasn't exactly a cake – it was a cookie cake! I thought this was such a cool idea for a cake.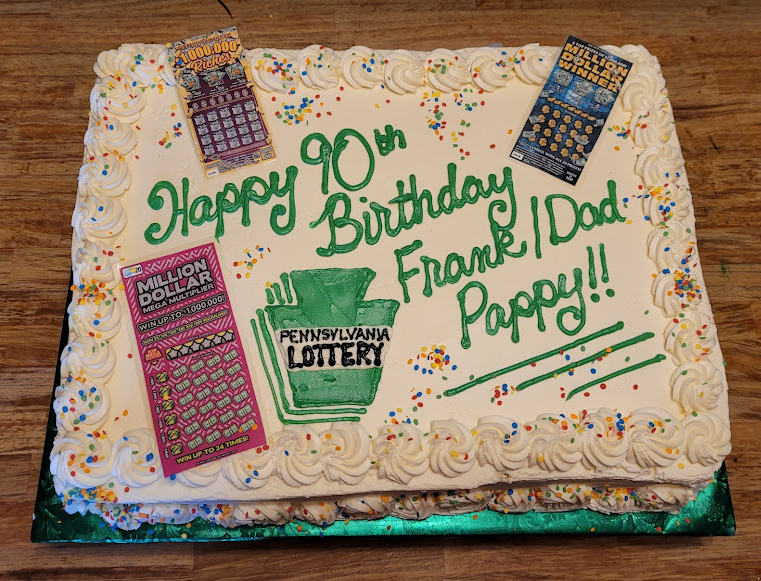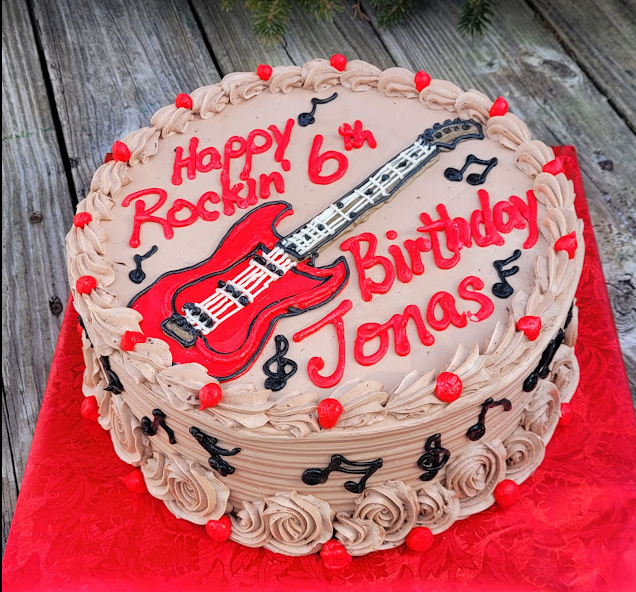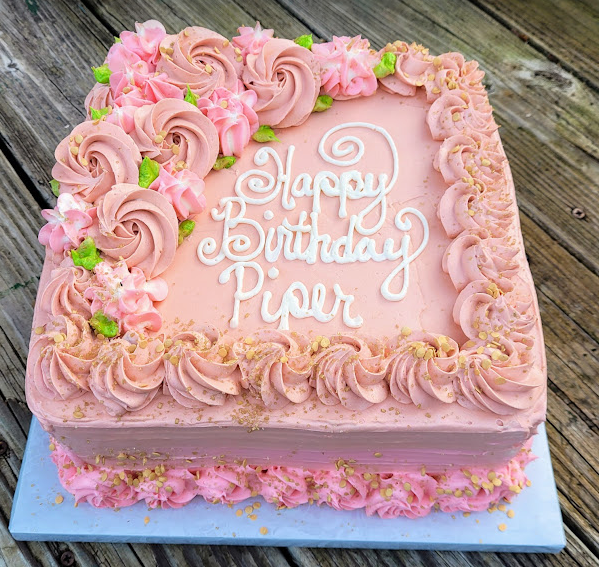 Continuing on with the little odd-end adventures, the next cake was of the PA Lottery! I thought this was a great cake, with the extra lottery tickets and PA Lottery logo on it. Another birthday cake was a small one of an electric guitar. I thought, besides the cool guitar on top, that the little music notes around the sides added a great amount to the cake. And the final cake to this odd-end collection was a simplistic one. I chose this one to represent the ones I saw of this, having that design, with a touch of difference, with the pink icing scheme. Well, I hope you all had great celebrations!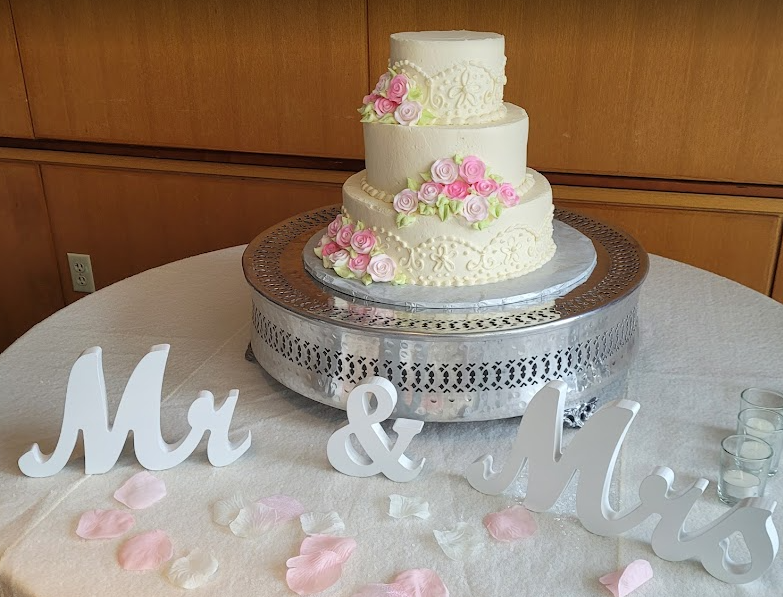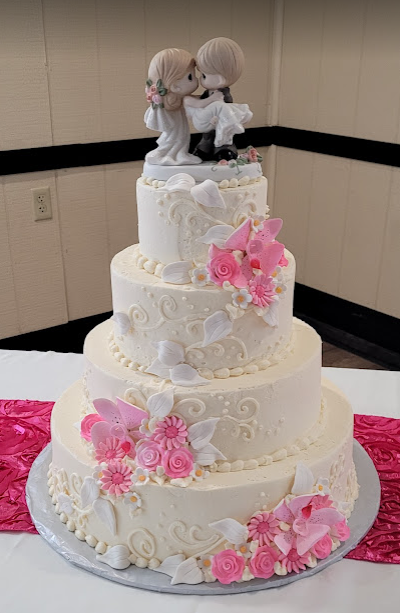 And you cannot forget about the wedding cakes! Looking back at the pictures, these two were the ones I thought were pretty interesting. The first was this four-tier, which, for one, it was a four-tier cake! I loved the flower design as it flowed down the side. The white accents brought on that sense of an old-fashioned cake, while the bold pinks helped make this cake so unique. The other wedding cake featured what I am describing as white accents as well, but much more prominently, around the bottom edge. I thought this was very elegant, and the pastel flowers helped this cake design greatly. Once again, I hope you had wonderful celebrations!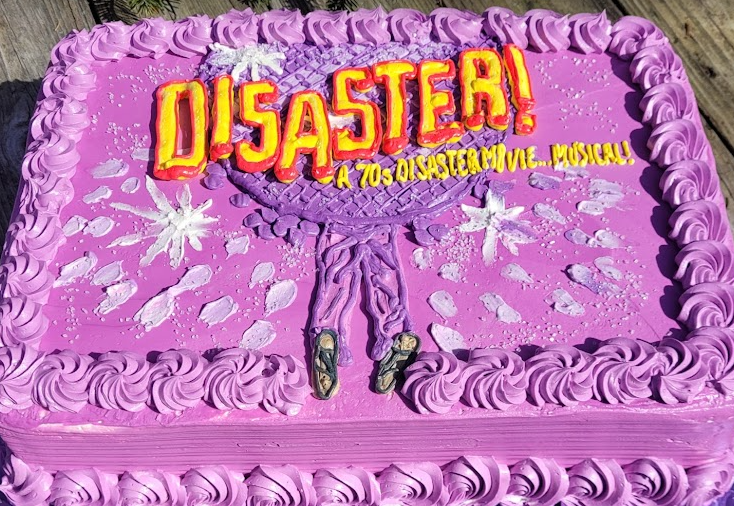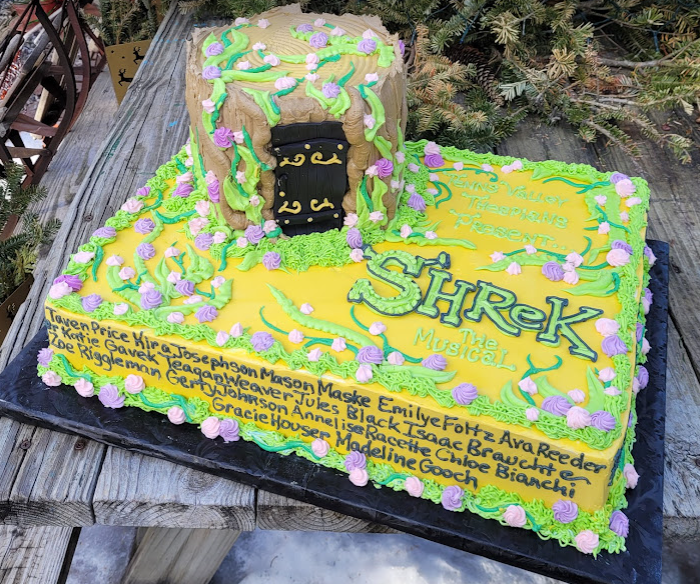 I was already planning a section for this, but before I start on it, there was another musical cake! This was a cake for the musical Disasters, which was a musical poking fun at 1970s disaster films. I thought this was a neat design, and although I have never seen this, it seems pretty interesting. As for musicals, my mom made a musical cake for our school's musical production this year.  We did Shrek the Musical this year (I was in the stage crew), and it was a lot of hard work, but much more fun! On these cakes, it basically has the musical's logo on it, and all of the people involved names around the edge. In the picture, I think mine was on the right. This cake was amazing, and I was thrilled that many liked it there. Thank you to my mom for doing this!!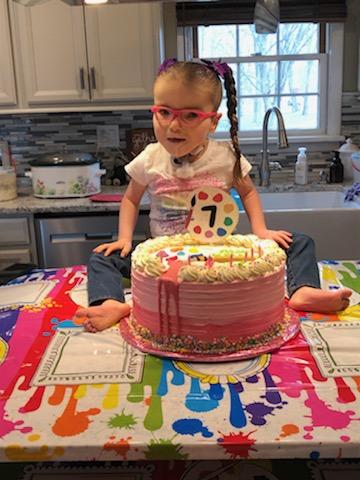 Probably one of the best highlights of the past few weeks was this wonderful painting cake that we had done. This was a cake for the Icing Smiles program, in which cake businesses like ours make a cake for a kid who has a critical illness. This little girl, who turned 7, had an amazing painting party, and I loved the cake that went along with it! This cake, although you can't see it in the pictures, featured rainbow layers, with paint on the top, and a piece running down the side of the cake. And this was all draped with beautiful pink hues on the sides. When the girl saw the cake, she gave a huge thumbs-up, so I am thrilled that you guys liked the cake! I am so happy that we are able to contribute to this amazing foundation and help make these kids' special days just a bit brighter.
So, I hope you guys enjoyed this wrap-up for the past few weeks, sorry it was a little long this time around! Have a wonderful rest of your week, and I hope that you'll like the next post as well!