Hello, everyone! I am sorry a blog was not done last weekend, I was working on finishing up a few last things for school and did not get a chance to write one. But, with these two weeks combined, a lot of fun and interesting cakes were completed. So, I hope you enjoy this longer blog post for this week!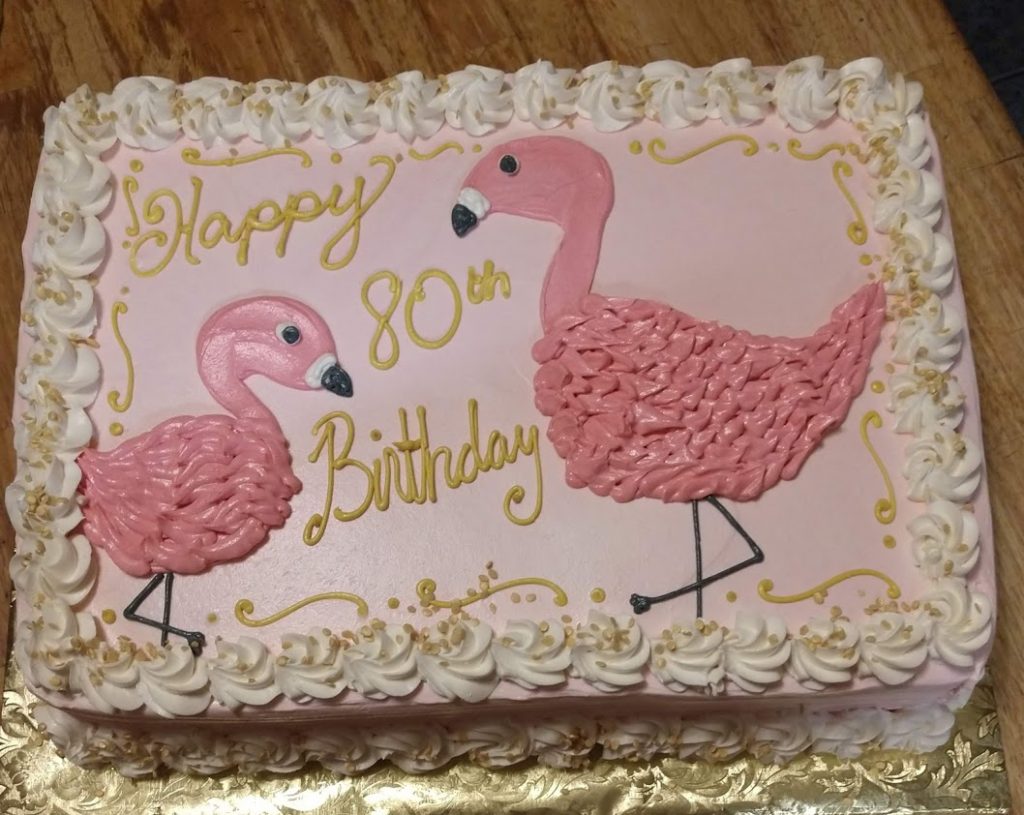 Let's start off with last week's cakes, because you do not want to forget about those! Two cakes that were also done, for different people, were flamingo cakes! I thought they were pretty cool, and it caught my attention since they were both birthday cakes: one for an 80th, and another for an 8th.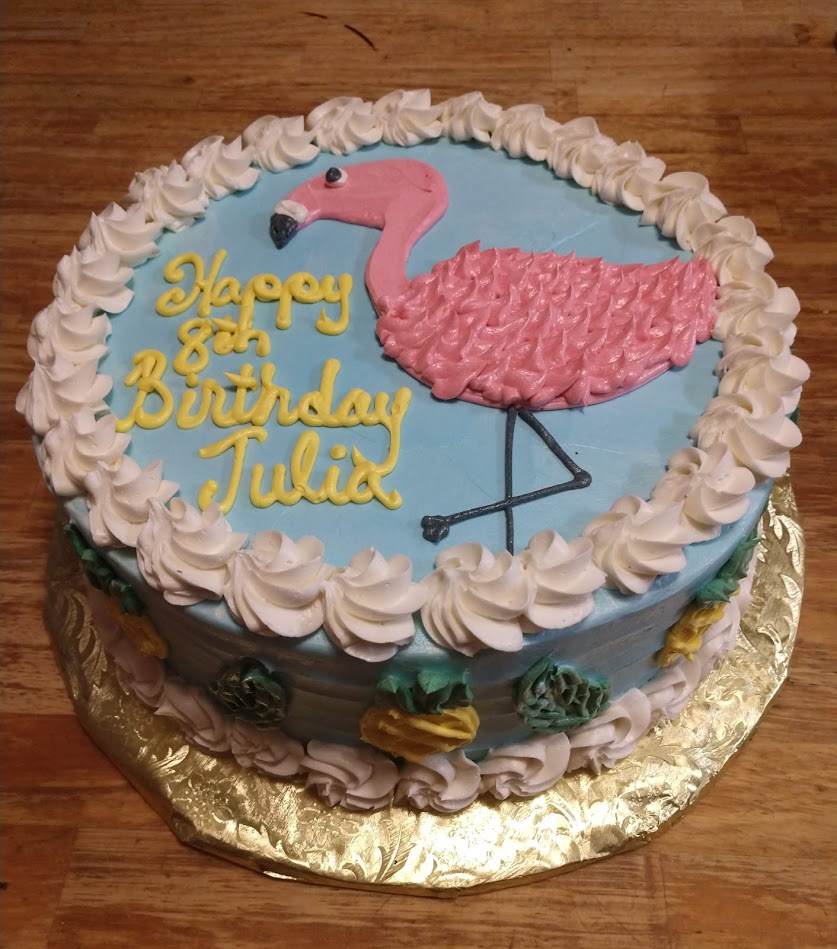 I hope you had great celebrations! One other cake I really liked was what I believed to be a wedding cake. It was pretty simple, with some beautiful red and pink roses, but this cake was not just icing.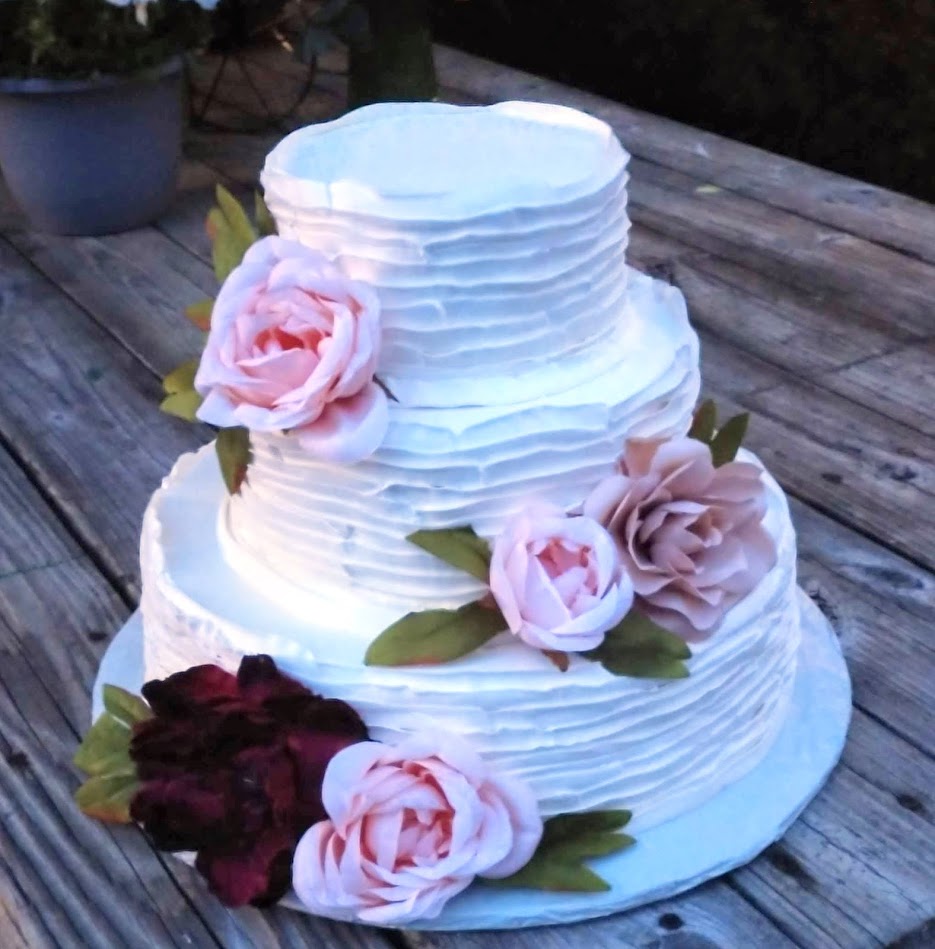 My mom piped icing but it looked like small strips of fondant wrapped around the cake. The icing had such a cool effect. I thought this was so intricate, pretty and it shows amazing things you can do with icing. I hope you had a great celebration!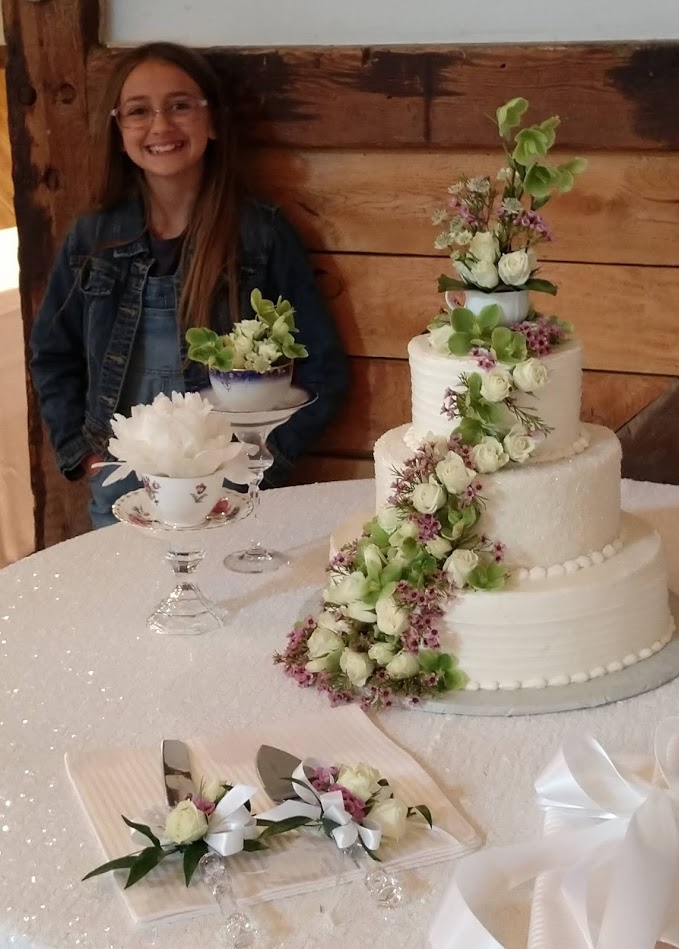 The last cake I would like to mention from this week was this amazingly decorated wedding cake that my sister and mom had delivered. This cake was filled with a stream of light purple flowers and greens, and on the top, there was a teacup (which I saw other images of as well and so unique!) I thought this cake was simply beautiful. I hope you had a great wedding celebration!
That was only last weekend. This weekend, there was a ton more. First, the fun ones. Okay, probably the funniest one this weekend, was the chicken. An actual, almost life-size chicken.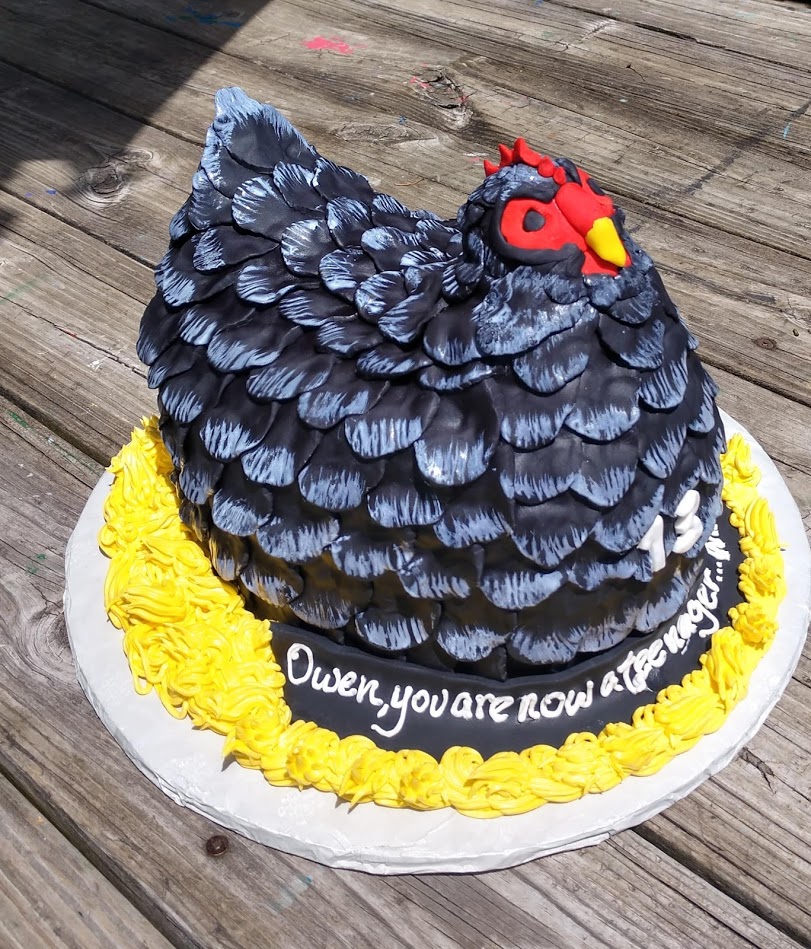 I thought it was hysterical, and also pretty cute. It was for a 13th birthday celebration. So, I hope you had a great birthday!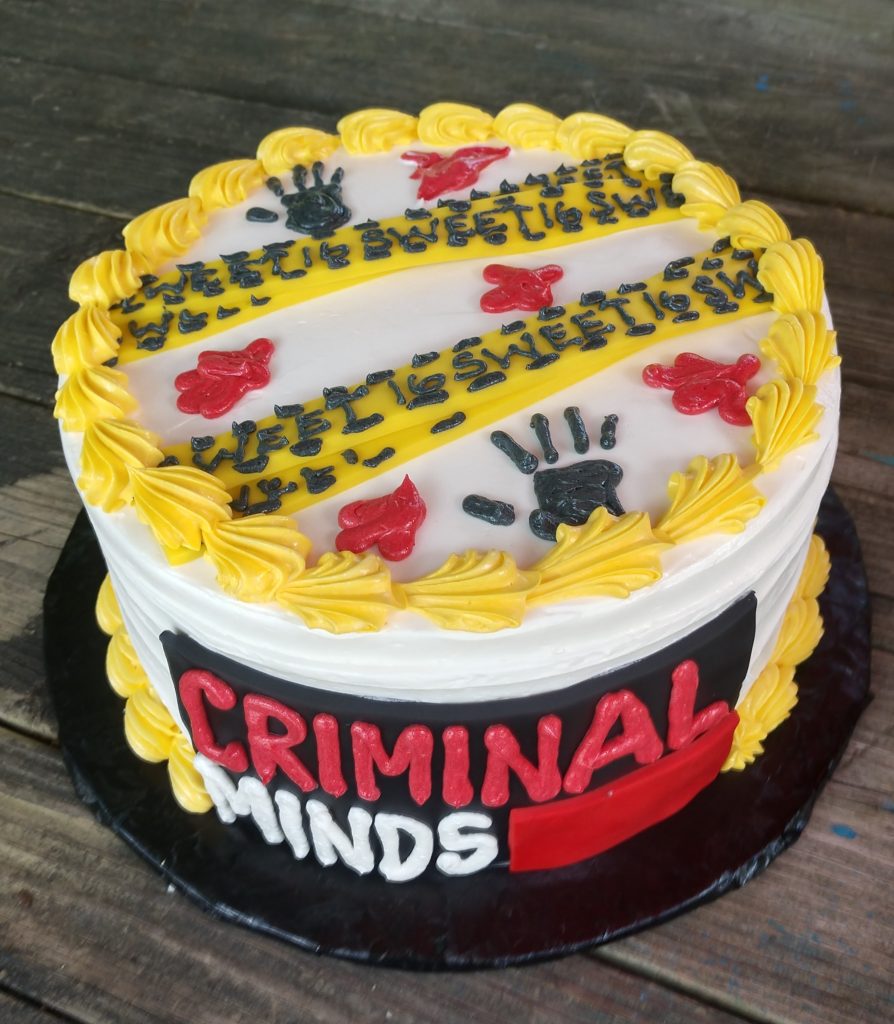 Another birthday cake was also done: a Criminal Minds cake. I thought this cake was pretty cool, with the logo, hand prints, and the known crime scene tape. I hope you also had a great birthday!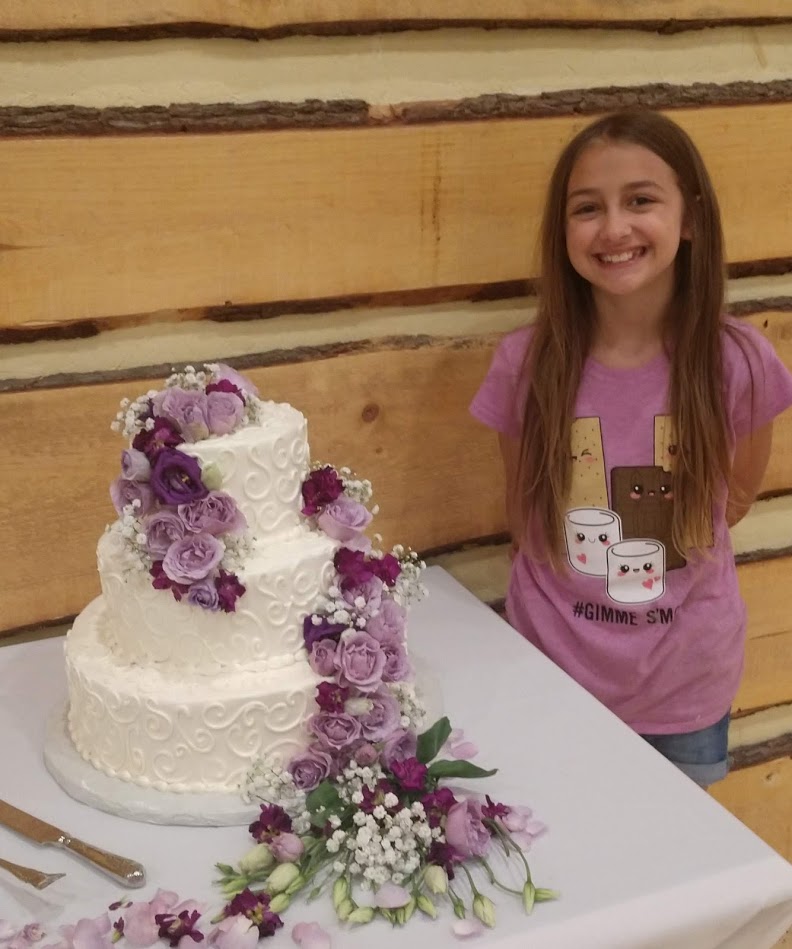 Out of the wedding cakes that were also done this weekend, I had one that I really liked with its flower display. This cake that was also delivered by Sophia and my mom, delivered to the beautiful Greenland's Lodge, was filled with a stream of beautiful purple flowers. One thing that was also nice about this cake was that the flowers kind of came out of the cake, and spread onto the table with several greens. These types of displays are ones that I absolutely adore.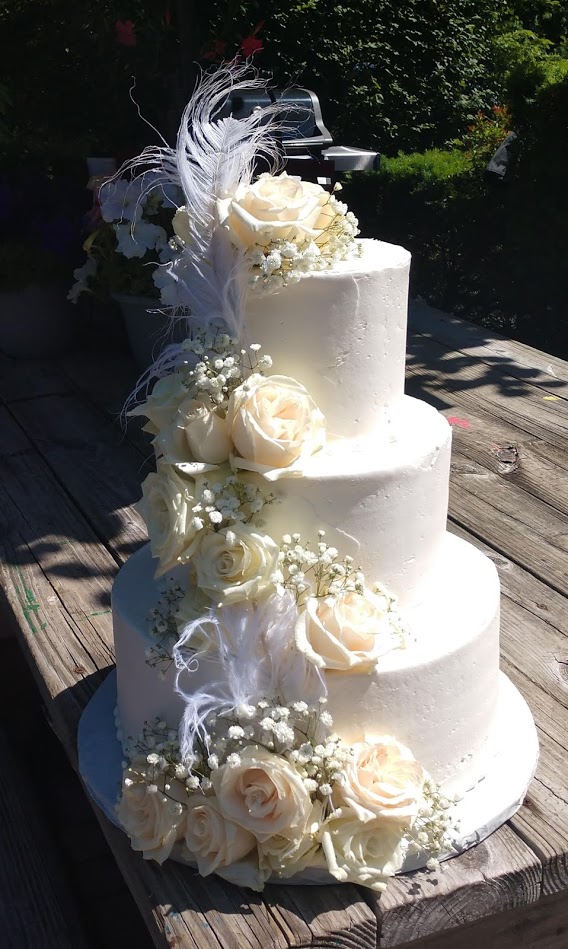 As well, another cake which was not a wedding cake (a bridal shower cake), but it sure did look like one. It was a beautiful cake, already decorated with pale roses and other sparse greens. But its main point? The feather. An actual (fake, but still!) feather, which ran in with the other greens. I sometimes see cakes that have feathers decorated on it, or around the edges, but I do not remember a cake like this. It was very unique, and beautiful! I hope you both had great celebrations!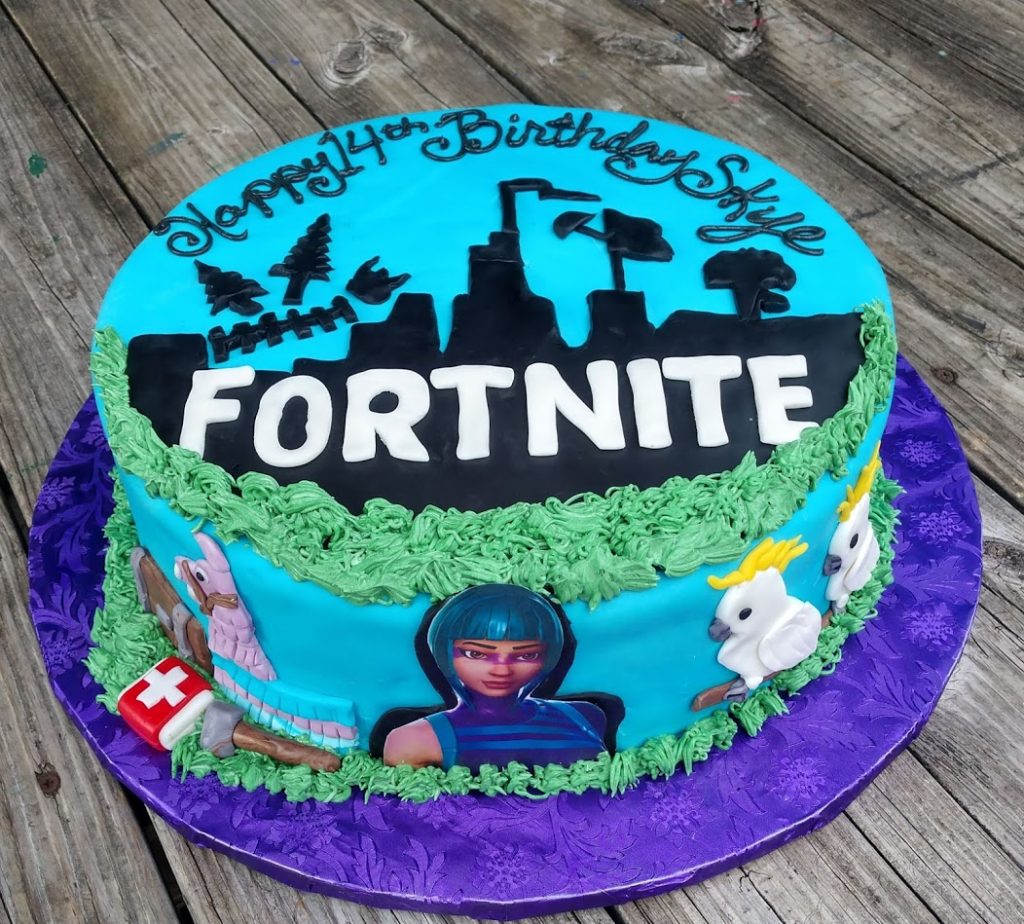 Finally, another important cake was made this weekend. This was our first cake with Icing Smiles, a nonprofit organization which gives cakes which were donated from bakers to children who are impacted with terminal illnesses. This cake that we did was an amazing cake for a girl named Skye. This cake was mainly a Fortnite cake, featuring several of its characters. But, it also featured two of her real-life birds, Cookie and Coco. According to her family, Skye has gone through 2 open heart surgeries, and "pulls our family together and keeps us close." I thought this was an amazing thing that we were able to do for this girl. I wish you good luck on further surgeries (if they are needed) and the best of health. I hope you had a great 14th birthday celebration!
Overall, these past few weeks were filled to the brim with cakes, cupcakes, and more. I hope you all enjoyed them, and they all lead to many great adventures in cakeland.